All The World's A Canvas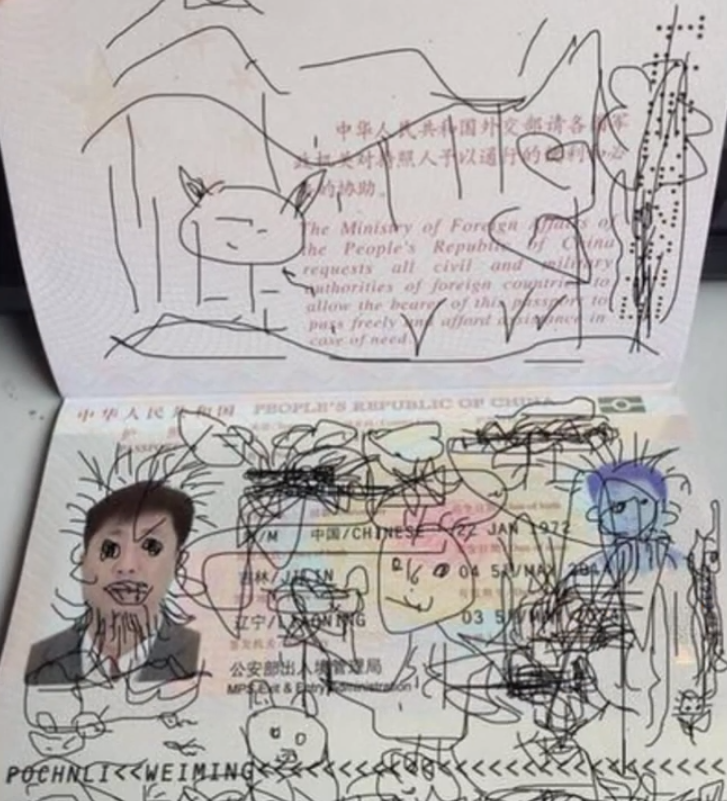 If you're a parent of a young child, you're going to have some of your possessions ruined with an unwanted drawing. Children that young are beginning to develop their fine motor skills and their artistic side, and are eager to use any available surface to compose their next masterpiece. Usually the damage is fixable, or the object is replaceable, but for one parent it meant being detained at a foreign airport until his embassy could sort it out.
The father, "Mr. Chen," is Chinese and went on a business trip to South Korea with his four-year-old son. (First mistake right there.) When the father-son duo went to the airport to return home, Dad discovered his son had scribbled all over his passport–complete with a new makeover for Dad that included scraggly hair, a beard, giant lips, and eyes as black as a shark's.
Unfortunately, airport security didn't have a sense of humor about the situation. The two were detained, and the Chinese embassy tried to issue them a fresh passport.
We're still waiting for the Chinese industry to turn this incident into a movie, perhaps in the vein of Tom Hanks's classic The Terminal.
(via India Today)
---