Austin Restaurant Serves Deep Thoughts With Their Sign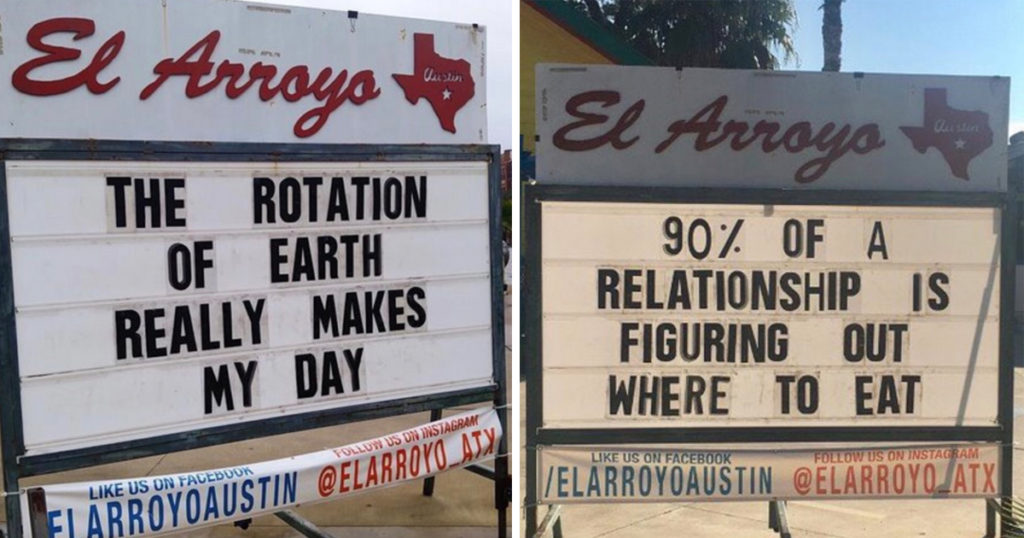 Everything is bigger in Texas (perhaps even, the sarcasm). El Arroyo in Austin may actually be known for the observations they leave on their sign out front even more so than they are for the Tex Mex on their menu. Here are 20 of our favorites.
1.
While narcolepsy is just a series of obstacles preventing you from maintaining gainful employment.
2.
And I would've called the bitch too if she didn't get my iPhone 8 in the divorce.
3.
With the possible exception of farting (I don't like surprises).
4.
Yes. And most of the time it's some paunchy, orange dude who can't seem to stop tweeting.
5.
And yet another periodic table-related joke fails to get someone laid.
6.
Diet notices, and proceeds to block you — much like the arteries in your heart ever since you've been back on pork byproducts.
7.
But who can stay focused on their email provider when there's also brazzers.com ?
8.
I find closing my eyes and picturing Yukon Cornelius on top of the Bumble usually works.
9.
Welcome to Man Boob Island, population of 1.
10.
But not sorry to Brussel sprouts. They can still go f' themselves.
11.
Lest we forget your parole officer.
12.
Touché! Or is it "2-che?…"
13.
And the same goes double for the front half of "peacock."
14.
Or, needless to say, Google Map.
15.
"I said I can't hear you over the moans of my side action!"
16.
Which is precisely why I back over them with my Kia.
17.
This wouldn't be a problem had you texted from a rotary phone.
18.
Stoner Buddhists have the same issue with buds.
19.
Weather's response? "Ummm, the eye of my hurricane is up here…" #timesup #metoo
20.
That is if the romaine doesn't get you first.
h/t: Sad and Useless
---