Dad Writes Creative Notes To Excuse Kids' Tardiness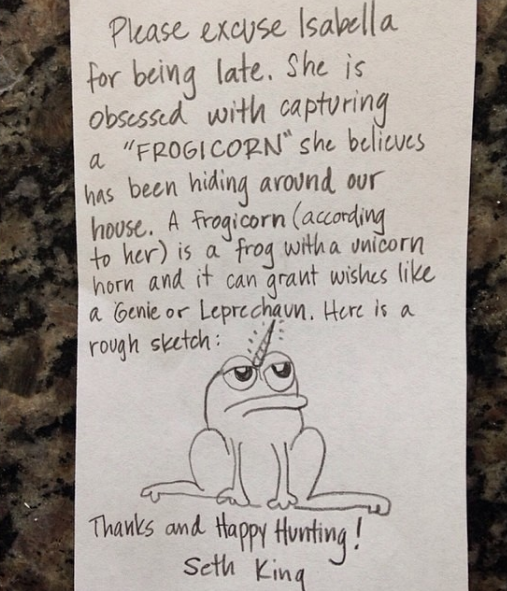 For parents, the act of getting the kids to school on time might be the biggest challenge of their day, and with five children of his own, Utah dad Seth King has dealt with his share of morning rushes. Whenever his kids, whose ages range from 15 years old to 3, arrive at school late, the administration requires a note from parents. But rather than fall back on the same excuses we've all used a hundred times before ("Someone overslept," "the car wouldn't start," "a sinkhole opened up in the kitchen," etc.), King views these notes an opportunity for creativity. For several years he's been writing lengthy, whimsical, excuse notes, and more recently he's been posting them on his Instagram, appropriately named "Late Notes."
King told The Huffington Post that in addition to exercising his own creativity, the original impetus for writing such long letters was to teach his kids that their actions have consequences. More recently, though, he says the notes have given his oldest daughter, 15-year-old Isabella, more incentive to be punctual–she finds the whole thing a bit embarrassing, which we're sure only makes it more fun for Seth.
As for the schools, Seth says they look forward to any time a King kid is tardy because it means a new fun letter to read.
It sounds like everyone involved manages to take a stressful situation like running late in the morning not so seriously.
Well, except Isabella. She'll appreciate this one day, we hope.
You can check out a gallery of Seth's letters (and admire his penmanship!) below:
1. The emotional fallout caused by One Direction

2. Skee-Ball theft.

3. Honoring Columbus Day.

4. "I was practicing for my boy band!"

5. Potter-mania.

6. Spelling Bee fangirl.

7. Controlling the weather.

8. Dreams of a superhero.

9. The budding foodie.

10. The non-bribe bribe.

(via The Huffington Post)
---