Guy Hides Marriage Proposal In Every Photo With Girlfriend For Months
This may be the most dedicated marriage proposal we've come across. When Ray Smith, from Grimsby UK, decided it was time to pop the question to his pregnant girlfriend Claire, he decided to opt for the long game. For the next five months, Ray strove to take a photo with Claire every day, and each time he snuck in the words "Will you marry me?" The photos totaled 148, and she never found out.
"I searched online for unusual proposals and I saw ideas like flash mobs and that sort of thing," Smith said. "So I decided to come up with my own idea to take a picture every day for five months." Claire's response? "I was totally surprised, but in hindsight it's exactly the kind of thing he does…I said yes straight away, I didn't need to think about it."
You can check out the full gallery below.
1. "I originally thought about popping the question in a hot air balloon," said Ray.
2. "I have been planning to propose for a while and I knew I wanted to do something romantic."
3. "In June we received some great news that Claire was expecting a baby, which put a stop to that plan."
4. "I decided to come up with my own idea to take a picture every day for five months."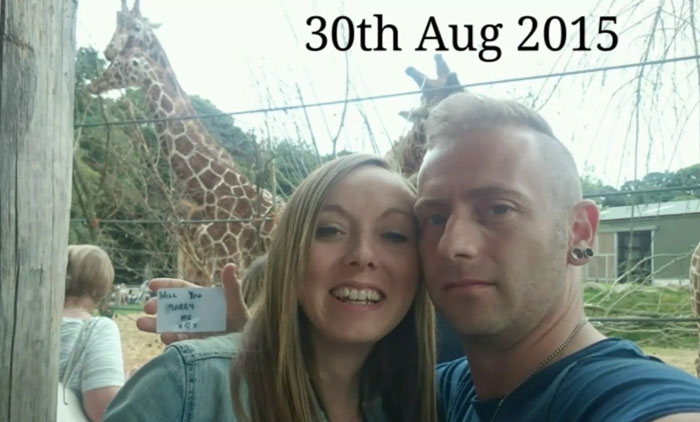 5. "I told her I was taking the pictures to track the progress of the baby."
---