Mom Tweets Daughter's Funny Observations
Kelly Oxford is a Twitter power user, a screenwriter, a New York Times bestselling author. She's also mother of a 7-year-old whose wit gives Mom a run for her money. Her daughter, 7-year-old Bea, is just beginning to figure out how the world works, and seemingly every day offers a new opportunity to ask Mom about life or to offer her own unique take on all kinds of topics.
Check out this selection of Bea-isms below and you'll find her to be a smart, quirky, and funny young lady. And if you enjoy Kelly and Bea's sense of humor, make sure to follow them on Twitter!
1. Bea, on the difficulties of womanhood


2. On the secret lives of baked goods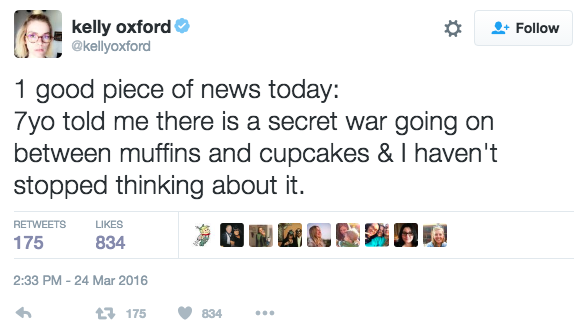 3. On prostitution

4. On how great art can come from great pain

5. On the dilemma of vegetarianism

6. On Halloween-related disappointment

7. On a villain's motivation

8. On the downside of the afterlife

9. On reality TV show production

10. On celebrity culture

11. On life's contradictions

12. On real life vs. fiction

13. On waitstaff etiquette

14. On the end of the world (and what we'll be eating!)

15. On aging

16. On the reproductive system

(via source)
---