World Traveler Finds Unique Way To Let Mom Know He's Fine
Jonathan Quiñonez, 27, was getting burnt out in his career as a consultant in Belgium, so he decided to put his job on hold and see the world. Being young, single, and childless, this was the perfect time for the trip. But he still had a problem: how would he keep his mother updated on his experiences and, more importantly, his safety?
The solution came to him on the first leg of his journey: Cuba, where Internet and cell phone service can be spotty. Jonathan made a big sign that said, "Mom, I'm Fine," stuck a cigar in his mouth, took a picture, and sent it to Mom. She was so thrilled that Jonathan decided to take photo at every stop and post it to Instagram, where his mother could check on it from her home in Mexico.
As he visited parts of Central and South America, his account got more and more followers and eventually went viral.
The trip was also an inspiration for Jonathan. Seeing new parts of the world motivated him to refocus his career on environmentalism and philanthropy. He now works with the Belgian Development Agency in Morocco, where he helps support agricultural development.
He's also still documenting his world travels, and still letting his mom know he's fine, at his Instagram account, Mom, I'm Fine. Check out more of Jonathan's sightseeing below:
1. Machu Picchu, Peru

2. Skydiving in Playa del Carmen, Mexico

3. Mountain climbing in Huayna Potosi, Bolivia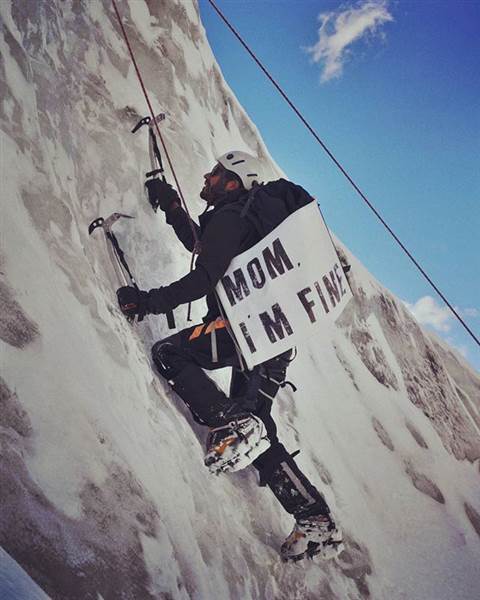 4. Surfing in Rio de Janeiro, Brazil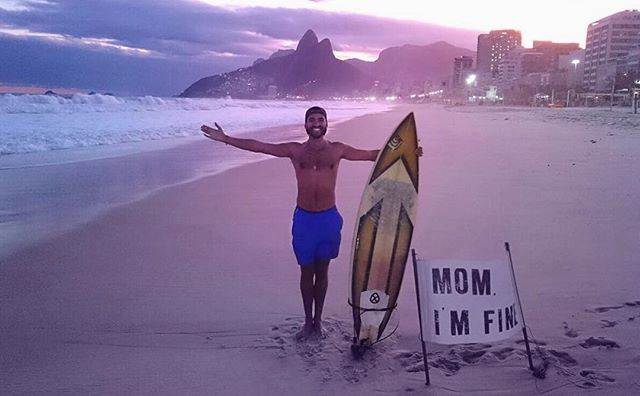 5. Scuba diving, also in Rio de Janeiro

6. Finally, he even convinced the Colombian police with his photo on a trip to Cartagena.

(via Today.com)
---