Easter
"It was 1978 and my parents used to party every Saturday night… even if it was the night before Easter."
(submitted by Carol)
"It seemed like a good idea at the time: the Easter Bunny emerging from the gardening shed to surprise the children and join the egg hunt. My then 4-year old daughter didn't think so. And when the shed door crashed open and the Bunny stumbled out and staggered about because he couldn't see out of the costume, can you blame her?"
(submitted by Bruce)
"I am The Overgrown Easter Bunny.  It was 1984, I was 10 years old.  My grandfather insisted that I dress up like the Easter Bunny for my younger cousins and siblings.  This photo shows me with my mom, dad, sister and brother.  I was mortified, though my brother is the one emoting how I was feeling inside."
(submitted by Erin)
"This is a photo of me and my cousin about ten years ago. I was about eleven, a giant awkward thing who had yet to get braces. For some reason, while walking around at the mall my mother and aunt spontaneously thought it would be a grand idea to force us to get easter pictures. The "photographer" put us in half a bunny carcass and bunny ears, and voila!"
(submitted by Solanah)
Their plan wasn't fully hatched.
(submitted by Rebecka)
This young man celebrates Easter at his local Playboy Club.
(submitted by David)
"This picture is of me and my two siblings after church on Easter Sunday… when we got home, we decided to wake Dad up and have him take family pictures with us. This is how it ended."
(submitted by Fiona)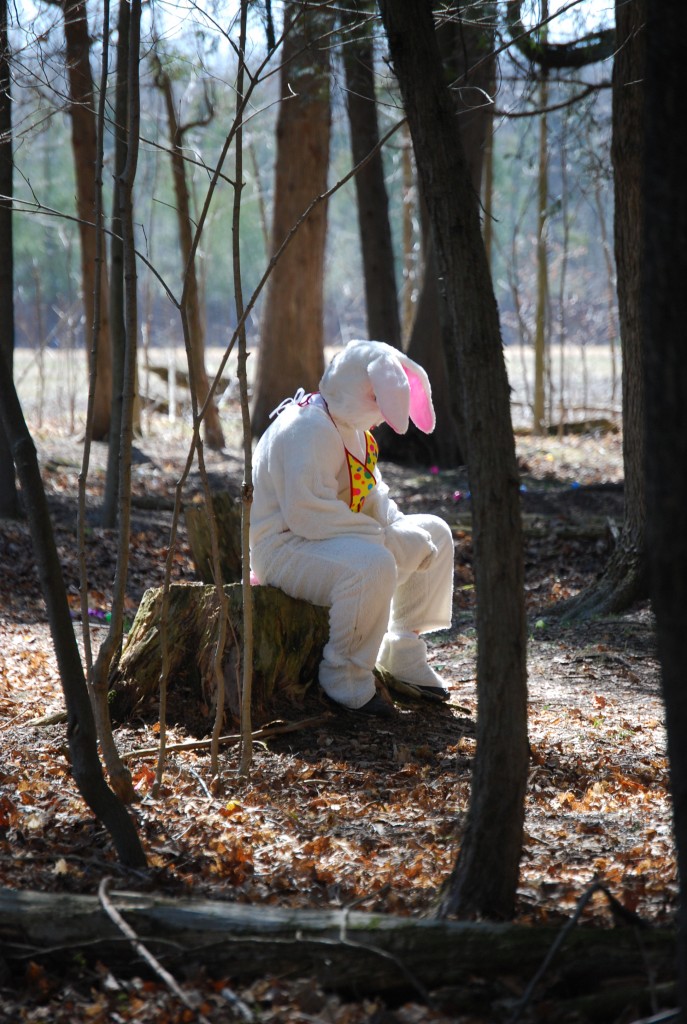 "Our family went on a forest walk Easter Egg hunt at a local farm and I caught this pic. The entire family witnessed the bunny flopping down on a stump in exhaustion or 'resignation.' Moments earlier he had posed for photos with the kids. My six-year old looked up at me and asked, 'Is the Easter Bunny okay, Mom?'"
(submitted by Sarah in Canada)
Some holidays need no introduction.
(submitted by Diane)
It was a slow day for the bunny.
(submitted by Cassie)