Mom
"The year was 1976. My mom had just come home with that fabulous perm, and, apparently, I asked to have the same done to my hair.  I was three or four at the time, so I'll have to take her word on that.  I do, however remember the traumatic experience of having that fro cut off several days after this picture was taken, because I played in a sandbox too emphatically and my mother couldn't comb through the tangled, sandy mess!  This picture will always make me smile (while shaking my head).  It shows just how tiny our immediate family was – just me and my mom, with dad behind the camera at his studio. It's goofy, sure, but back then, it was just 'us'.
(submitted by Julie)
And now, you can get the exclusive shirt in our store!
Looks like both Mom and Ava are going through a phase.
(via Imgur)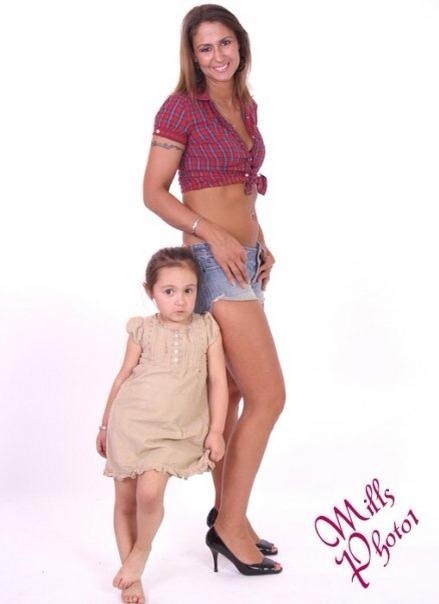 Coming to CBS this Fall.
(submitted by Jamie)
Let's just say he will have a hard time dating.
(submitted by Jamie)
Sometimes, a selfie should truly be a selfie.
(submitted by Becky)
You have to love the Mom who compares her children to both Sloth and Gollum.
(submitted by Michelle in Australia)
She doesn't care about the whole "only in self-defense" part.
(submitted by Jeff)
Hear them meow.
(submitted by Kim)
"My mom and I got our photos done, notice the Native American influence in the hair beading. With all the feathers we look like roosters. Moms expression lets you know shes thinking cock-a-doodle-doo!"
(submitted by Carla)
"This little guy was in for his newborn session, and during the sweet photos with mom and grandma, he decided to let it go. Mom's face says it all.  Should this be the birth announcement?"
(submitted by Chelsea)