Photos
"This is a photo of me and the robot I made when I was in the 3rd grade. Who knew I could create a great work of engineering at such as young age? This photo is just one example of the intense awkward stage I went through – please note: lack of smile, random lawnchair in the obvious cold weather, bright blue glasses…and yeah, that robot."
(submitted by Katy)

These two felt that meeting people online was too impersonal.
(submitted by Jordan)
To what's his name?
(submitted by Amie)
It would have made perfect sense if that was his wife.
(submitted by Karlie)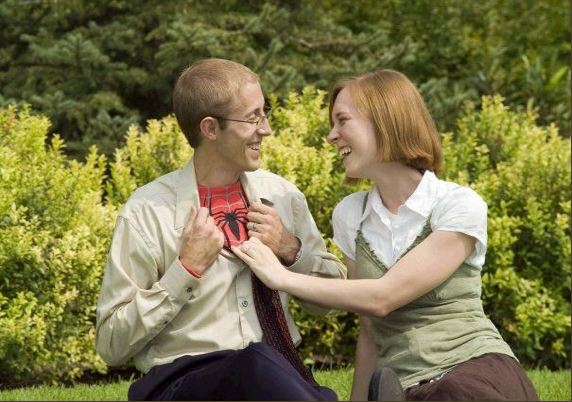 "This is me and my wife (fiance at the time.) I am a huge Spider-Man nut and I wore my Spidey suit under my suit and tie. Lisa, being the sweetheart that she is, went along with it. We actually liked it so much that we put it on our invitations."
(submitted by David)
It's not easy being in a room with no corners.
(submitted by Amber)
Taking the violin to depths it's never been before. Literally.
(submitted by Lindsay)
For the family that's ready to show the world they have something to hide.
(submitted by Alex)
Their love would never expire.
(submitted by Stephani)