Kids
"This kid's childhood was not always easy. Actually, it's me 22 years ago."
(via source)
"I recreated this awkward photo last year. The original is from about 1988. I must have gotten into my sister's make-up and tried to look like a clown. As punishment she tickled me and took this delightfully awkward photo."
(submitted by Rosie)
"Had no tripod so stitched together to make a nice family picture. Then about a month later I saw it."
(via source)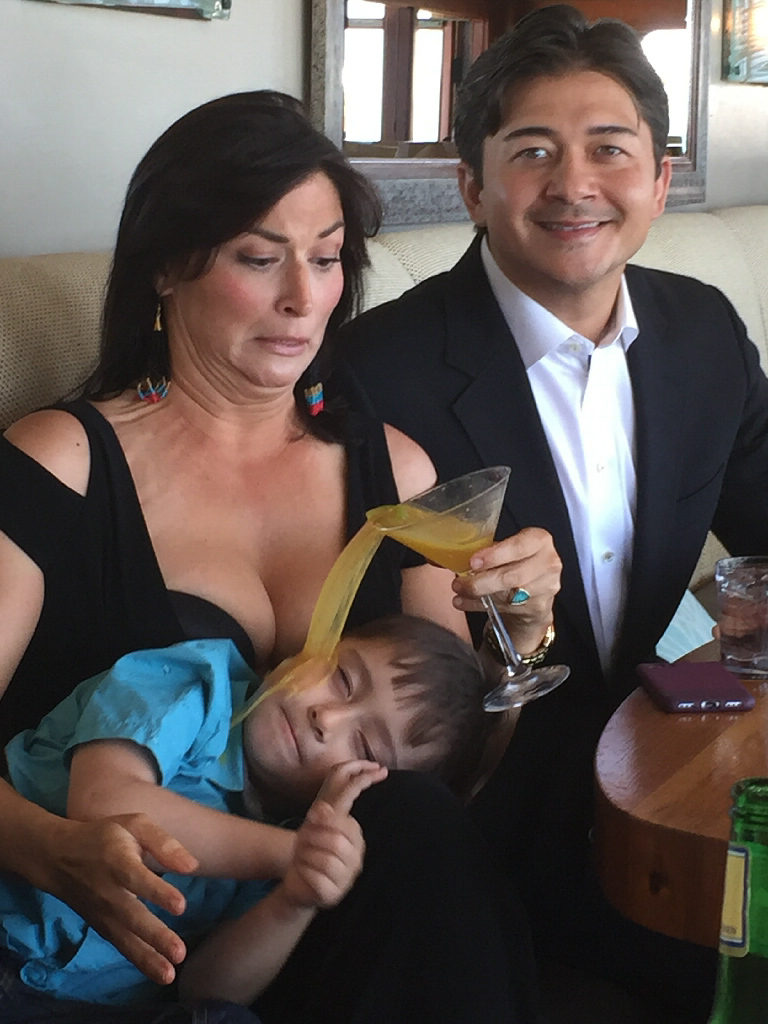 That'll bring a brunch to a screeching halt.
(via source)
"One day we came home from grocery shopping. While my Mom and I packed everything away we left my daughter to her own devices. Twenty minutes later we put the kettle on for tea and realized the house was way too quiet. So we went to look for our little girl. We found her on the floor next to my bed, unwrapping the unmentionables and stringing them onto her arms."
(submitted by Louise)
"My son's first grade school picture. He's 18 now. I love how instead of saying 'I love Wayne,' it says I love Payne!"
(submitted by Jeannie)
"A letter from my uncle to my grandparents letting them know he did not enjoy camp ONE BIT."
Dear Mom and Dad, 
I'm having a better time than I expected, but that's not saying much. If by any chance you find it necessary to write, the address is as follows: 
In this camp we have rooms in a bunk, and in each room are two kids, who have parents like you who have a kid like me, so they sent him away for three weeks. 
If you think you forgot to pack anything, don't worry, you're right. You forgot to pack a belt, stamps, fitted sheets, and a television set. 
Tell Daddy to send me the baseball scores and standings every day, not that I'm interested, I just want to see if you remember me. 
If I live through the food, misquitoes, the freezing cold nights, the boiling hot days, and the counselors, you will see me home in twenty days. 
Your probably forgotten son, 
P.S. Please send me a watch.
(via source)
"Found this picture of me and my pet raccoon fishing together. He'd wait for me to catch a fish and reel it in so he could grab and eat it. Taken in the late 1980's."
(via source)
"This is how I've chosen to spend my Father's Day."
(via source)