Kids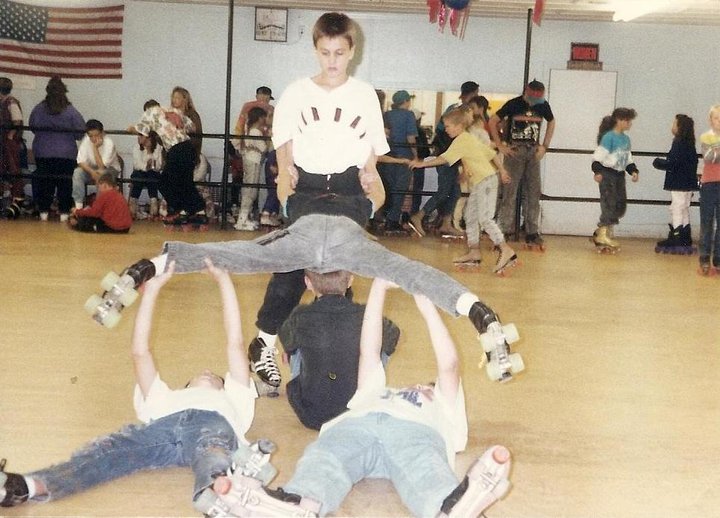 These five took "free skate" to the next level.
And they said it would never work.
(submitted by Jen)
Aim high.
(submitted by Mary)
"This is my sister Shannon on vacation in Ireland. My boyfriend saw this at Thanksgiving and commented that this has got to be one of the MOST horrid things ever!"
(submitted by Tara)
This bunny didn't have time to dispose of the last kid.
(submitted by Meredith)
Being photographed with this pop is more daring than anything Evel Knievel ever did.
(submitted by our good friend Kenny)
"So my Dad's landlord, who is trying to bring business back to his failing modeling agency (failing probably because he takes photos like this), volunteered to take pictures of my dad and I. He dressed and posed both of us, and this was the result. Oh, his instruction for our facial expression was "Give me stubborn! Give me sassy!"
(submitted by Clarity)
"This is me, posing for my father on a Sunday morning, shortly after he separated from my mom. He let me wear whatever I wanted and do whatever I wanted with my hair (opportunities that I made the most of). For some reason, he thought it'd be a good idea to take pictures of me standing in front of a dumpster. I have a whole set of these. I guess he was a bit depressed…"
(submitted by Lucia)

Every time she tries to get out, they keep pulling her back in.
(submitted by Nicki)
"This is a photo of my sister camping in Hana, Hawaii. We lived there during our 'awkward' phase of 12-14. Family friends, who didn't have children of their own, decided it would be a good idea to take 5 girls camping ages 9-13. Notice the lovely Christmas nightshirt my sister thought she should wear camping in July. She also is wearing the same braid that my mother put her hair in 4 days earlier. Jen was so filthy I think my mom burned her nightshirt when we got home."
(submitted by Shauna)