AFP Hall Of Fame

"This is a photo of my family.  There's plenty going on in this, but the best part is that the photographer positioned me, in a shoulder-baring black shirt behind my black haired mother… immortalizing me on my parent's wall as the weird naked girl photobombing this family picture."
(submitted by Camille)

"My hubby is a teacher. I'm a stay-at-home Mom. We have 5 kiddos, 4 of them adopted through foster care. A long time ago, I heard our pastor point out that when it comes to kids, rules without relationship = rebellion. From that day forward, I made a promise to myself to always make relationship with our kids a priority. And that means having fun with them and having a sense of humor. We want to teach our kids that being able to laugh at yourself (not in a bad, degrading way, but in a good way) is a wonderful attribute. So, we always do crazy photos for our Christmas cards. This year, we decided to make an awkward family photo."
(submitted by Shanti) 

"During family pictures my bouncy 5-year-old was a little sluggish but I was thrilled that he wasn't hyper. When my photographer said "Ummm he just threw up," I thought she meant the baby, so I checked him for spit up, saw none, and said, "No he's good." Then I saw the puddle at my feet. We rushed to the car and as we were driving away the photographer flagged us down to show us the picture she had captured. We laughed so hard we cried.
That was the only time he threw up that day, and he was totally fine and hour later, so we were puzzled. The next day, as my husband and I kept discussing that he must have eaten something that upset his stomach, he finally came clean. While we had been upstairs getting dressed, he snuck into the kitchen and ate a whole tub of ice cream. Then he cleaned up the mess and thought he got away with it. Apparently, he didn't understand how that much ice cream would make him so sick. He learned the hard way! And it made for a great Christmas card!"
(Submitted by Chelsy. Photo by @byeemilyphotography)

"Our 4 year old daughter, who refers to herself as Penny Cat Aurora Leopard Butterfly With No Wings, was greatly anticipating picture day at preschool. She styled her own outfit for the occasion, and when the photographer told her to 'Smile pretty like a princess', this magic happened."
(submitted by Leslie)

"My wife might be a vampire. On the left, junior prom. On the right, 20 years later in the exact same dress."
(via source)

"I lived in Luxembourg as a kid so my family did a lot of traveling in the five years we lived there. I was going through some old family photos this weekend and found the ones from our trip to Italy. In looking through the pictures, it was obvious that my siblings and I were not happy campers on this trip as we all refused to smile in every picture. However, this picture and the look on my face says it all! I'm sure my Dad thought it was hilarious to have his eight-year-old daughter pose in front of a fat naked man sitting on a turtle.
The statue is 'The Fountain of Bacchus', sculpted in 1560 by Valerio Cioli. He used Duke Cosimo I's court dwarf as the model for Bacchus. If you want to see the statue today, or take your own picture with it, it's at the Boboli Gardens in Florence, Italy."
(submitted by Shelly)

"This photo has baffled my family since it was taken on Easter 1984. When my mom got the photo back, she immediately had me try to pose like this and I couldn't. We've never figured it out. No photoshop, and I assure you I am neither possessed by a demon nor anywhere near that flexible."
(submitted by Sarah)

"Our daughter met Fabio at a Whole Foods when he was promoting his line of protein drinks.  She asked for a photo and he was more than happy to oblige.  We sent this photo out to friends and family with 'Our Future Son-in-Law' in the subject box, and nothing else, because, it's Fabio. Who doesn't know who he is?  Surprisingly, more people than we thought as we started receiving cautious congratulations…"
(submitted by Karen)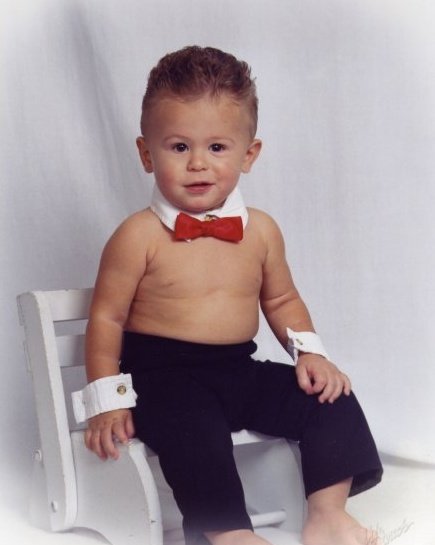 "This is my son Little Earl. He takes after his Papa."
(submitted by Big Earl) 

"My 8 year old went dumpster diving in our neighborhood. He was so proud. He brought this home for me, because it has a heart on it."
(submitted by Dina)