Christmas
You can't escape the holidays.
(submitted by Cindy)
He was just pointing out the man who deserves all of the credit.
(submitted by Calvin)
Clearly, being good for goodness sake isn't enough incentive.
(submitted by Sofapizza)
"This is a photo of my dad back in 84 or 85. Those were one of his many pairs of daisy dukes. Both him and my grandpa had a matching pair of ones with rainbows on the sides. I was always embarrassed when they would attempt to take me out in public while they were wearing them."
(submitted by LaDonna)
"My niece Kya was done with getting her picture taking on Thanksgiving, as were all of us.   We were almost done and needed her cooperation.  When she wasn't you can see how annoyed we all were….even the dog was pissed LOL."
(submitted by Candice)
"I can't remember the holiday, but my grandparents gave me a shirt & my sister money!!!??? You can see my enthusiasm!"
(submitted by Leah)
"For my parents 20th anniversary, my mom decided to dress up in her wedding dress and get our family Christmas photos done in front of the place they were married. I'm the girl bending over trying to hold down my brother who wanted to get away for obvious reasons. Needless to say, it was not everything my mom had hoped for."
(submitted by Shea)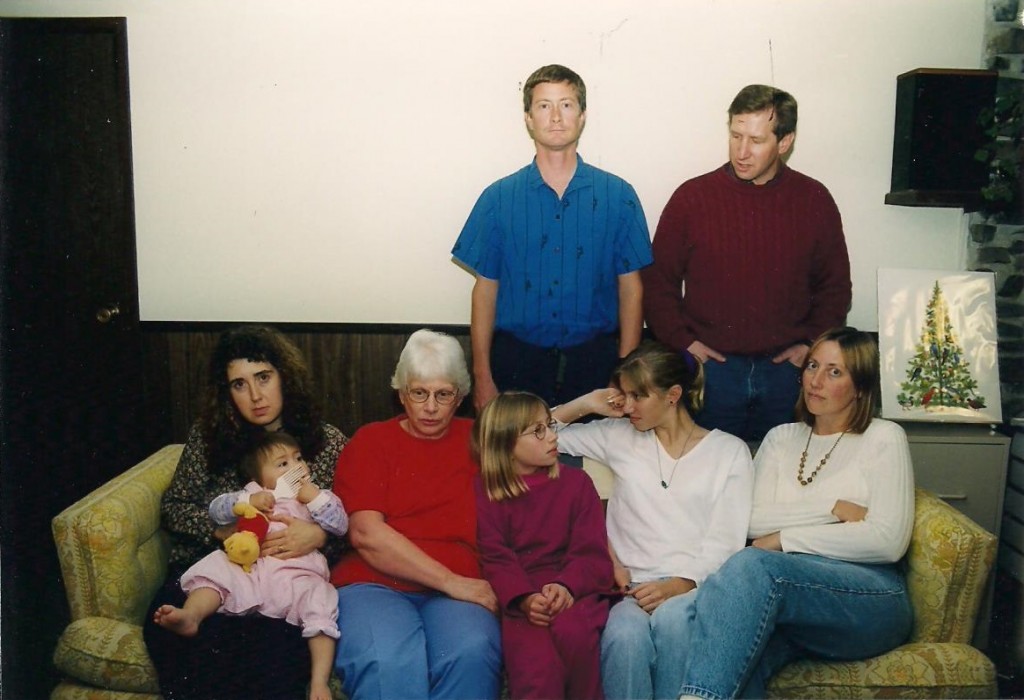 "Is this a promotional photo for a new ABC show about a dysfunctional family from the 90s? No, it's my family! I always felt like my family was the real life version of Malcolm In The Middle, and this picture from Christmas '99 is photographic proof. PS, I'm the one in the middle. Believe it or not, I actually requested my mom make me that outfit. Viva la purple sweatsuits."
(submitted by Lauryn)
Their holiday cheer is electric.
(submitted by Nicole)
They send their warmest regards.
(submitted by Frankie)