Co-Workers & Teams
"We post business photos for local business solutions and in this case, this is the photo that was submitted to us."
(submitted by Gabriel in Australia)
"I worked at a cub scout camp that had a theme of Star Wars. Some of my co-workers and I had a picture taken together. The older guy is a falconer, and we used the raven at camp a lot. To me, this picture makes so much sense, but to anybody else, there are three teenagers surrounding an older man holding a raven, and we're all dressed as Jedi. Weird."
(submitted by Jeff)

These co-workers prove that awkwardness also extends to your office family. Happy Labor Day from AFP!
(submitted by Abby & Vanessa)
"Group photo of my H.S. Drill team. I am top left. I think the band director wanted us to be 'avant-garde' but- well, you can see the results. This was taken at a competition full of adorable pom and cheer girls who were busy vaselining their teeth and finding matching scrunchies. Our music was something by the Doobie Brothers and the soundtrack of Labyrinth. I kid you not, we were instructed to emulate amoeba at the beginning of our routine. Which included hula hoops."
(submitted by Ingrid)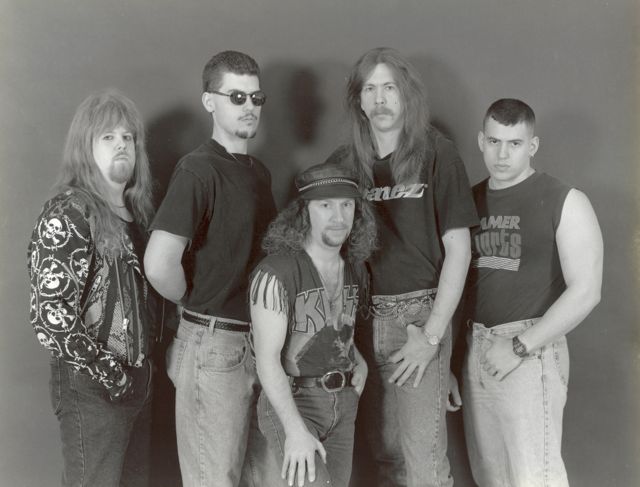 Feeling inspired by the movie Anvil, we decided to post this photo of another form of a family… the band. Although Area 57 and their music are no longer with us, their awkwardness will rock on forever.
(submitted by James)