Photos
"Just an old family photo that many of us and our friends can't stop looking at… we were visiting our grandparents in Mass, coming from PA.  So of course we had to take a family photo and of course my older brother was wearing a "Thriller" half shirt.  I keep asking myself, did they really sell those?  I am the one on the right… with a sweatshirt/short combo that almost looks like a one piece outfit. "
(submitted by Tim)
"I acknowledge that my arms look disproportionately huge in this photo, like I'm some oddly shaped monkey child. Awkwardness forever."
(submitted by Amanda)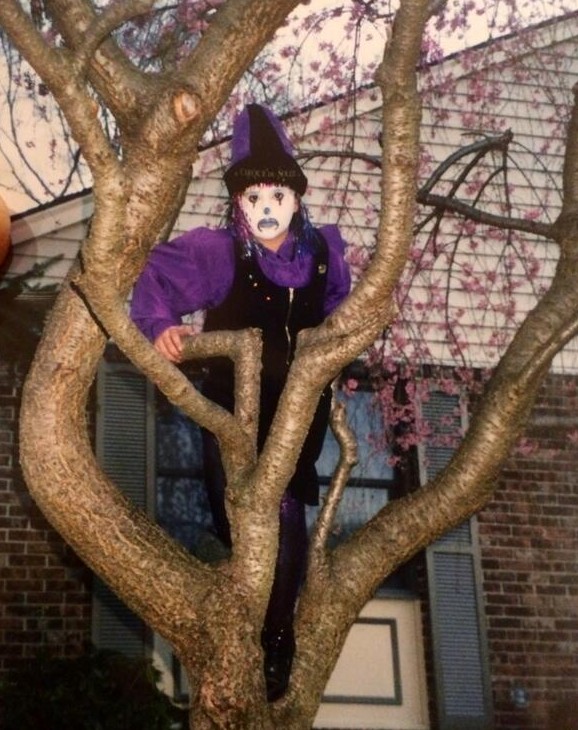 A rare clown in the tree sighting.
(submitted by Lauren via Twitter)
Well, at least she finished her dinner.
(submitted by Tom)
"During school picture time at my kids' daycare, they always do the younger kids on the first day and the older kids on the second day. What they didn't tell me is that they would be doing sibling photos together on the first day. As such, the baby was dressed for her photo, and my son was dressed in a car show t-shirt, sweatpants, and Spider-Man shoes. Add to this the psychotic faux bunnies, crazy backdrop, and the photographer assistant's head poking in from the right-hand side, and you have the perfect storm of awkwardness."
(submitted by Shannon)
"Picture of my ex on our wedding day with me kinda faintly showing in the background. Everyone who's seen it has said it was weird. I think it's the beard."
(submitted by Paul)
The always rare in-the-photobomb.
(submitted by Muha)
"I'm the baby and this was my first Halloween.  I guess it shut me up when they put a finger in my mouth so my grandma thought it would be funny if she put her finger in my dad's mouth to shut him up.  And my great-grandma followed suit."
(submitted by Spencer)
What's your interpretation?
(submitted by Mitch)