Photos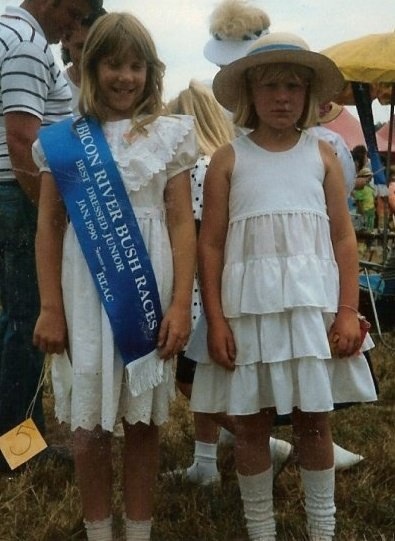 "This is my cousin and I at the races. We are the same age and were in the same class at school, so I always felt a little bit of rivalry with her. My older brother, my older sister and my younger brother all won the "Best Dressed" in their age/gender categories, but my cousin won in ours. I was so dirty on her for winning because not only did I have to put up with (what I saw as) her smugness, I also had to put up with my siblings teasing.
We are now in our 30's, great mates,  and think this photo is hilarious. Especially since my cousin admitted she was jealous of my hat and scrunchy socks (which were all the rage back then)."
(submitted by Lauren in Australia)
"As a ballsy 8 year-old, I clearly had a specific vision and a mother who humored me. To this day, I wonder what that poor photographer was thinking."
(submitted by Jennifer)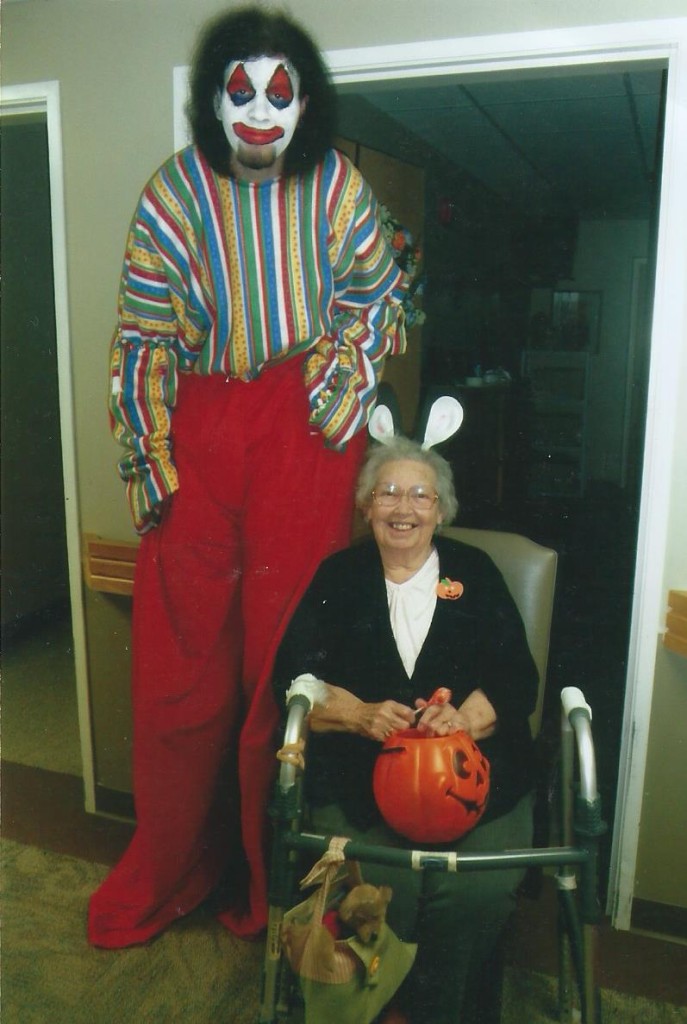 "This pic was taken at mom's nursing home a few years ago. Funny thing is, mom's just sitting there with a big smile on her face as though she has no idea that "thing" is behind her…"
(submitted by Jan)
"In 1989 my dad (on the far right) grandfather (holding the ladder) and family friend were building a deck off the back of our house.  After they got the first boards up my mother said "looks nice, but how are you going to get the ladder out?"  They forgot to move the ladder before securing the last board for the frame!!  They ended up cutting the ladder apart to get it out.  Also, notice the awkwardness of the jean shorts."
(submitted by Krys)
"This is my husband when he was 6 or 7. His grandma sent him to school on PICTURE DAY in this shirt. You can't see the bottom, but the shirt actually says "Rub it easy, make it hard." No joke. His grandma obviously was clueless. Needless to say, he didn't wear it to school again."
(submitted by Wendy)
Somebody's hair could not be accounted for.
(submitted by Charles)
She pleads not guilty, your honor.
(submitted by Tara)
"We had darling two-year-olds for our ring bearer and flower girl.  While we were trying to get a picture of me and my niece, the flower girl, our spirited ring bearer decided to have a yank at my veil which was of course cemented on to my head with a thousand bobby pins and hair spray.  I thought he was going to pull out a chunk!  Children are such angels."
(submitted by Holly)
"My mom and I got our photos done, notice the Native American influence in the hair beading. With all the feathers we look like roosters. Moms expression lets you know shes thinking cock-a-doodle-doo!"
(submitted by Carla)
"When I was 17 my parents thought it would be a good idea to take us all to pose for one of those glamour shots. This photo would of been a lot more awkward had I been allowed to wear my own make-up though maybe the glamour make-up and heavy air brushing adds to the uncomfortable."
(submitted by Lia in Australia)