Siblings

"This is a picture of my mom (far left) and her sister, half sister, and step sister in the back. It was taken sometime in the late-80s as a family portrait. Too funny…"
(submitted by Morgan)

"My cousins just wanted to go on the swings."
(submitted by Shannon)

"This is a photo of my sister and me, taken around 1991 (she is on the right, I'm on the left). I remember being incredibly grumpy that day, as I loathed getting our photos taken for three reasons:
1.) I had to sleep in uncomfortable curlers the night before, which always made for a poor night's rest.
2.) I hated being dressed as twins, especially since my sister and I are not twins.
3.) Wearing identical "Spumoni" sweatshirts: Spumoni was a line of clothing from the late eighties that appealed to young girls with its screen-print overkill: it utilized repetitive patterns of dogs, cats, flowers, and bows–resplendently displayed as puffy white vinyl designs. While I had been fine wearing this sweatshirt two years before, donning this again at eleven did not hold the same charm as it once did, and thus walking through the mall to the Sears Portrait Studio felt like a death march. However, I am sure my mother believed that my sister and I were simply darling in our matching attire with complimenting curls, so this photo bears witness to that crappy day so long ago."
(submitted by Brenna)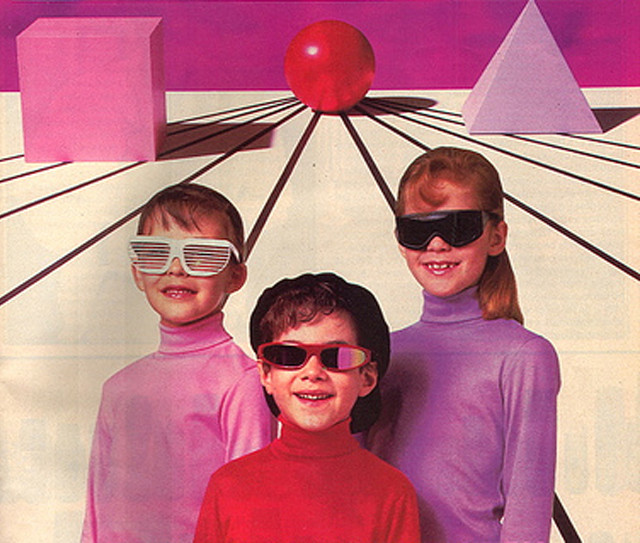 Don't look back.
(submitted by Adam)

And there's nothing more impressive than the mop-boa.
(submitted by Kellie)

"As was tradition in our family, we were taking our first day of school photos.  The cat, Cuddles, had been posing with us in some of our earlier shots and then ran off.  I was whining because I wanted to have the cat in the pictures.  My brother, intolerant of my whining, punched me and told me to shut up.  This made me cry and I started crying harder when I realized my mom was still taking pictures."
(submitted by Jennifer)


First one to call it gets to be "ghosted."
(submitted by Patrick)

"I really didn't want my sister in this picture…so I pushed her out at the last second. Can you spot her?"
(submitted by Bekk)

"This is a photo of my younger sister and I on Christmas in 1996. I'm the one with the triumphant look on my face holding the cards and mashing my hand in my sister's face. I love this picture because it pretty much sums up the relationship I have with my sister. It also tells you a lot about my family… like the fact that my parents took a picture of the situation before pulling me off of my sister."
(submitted by Heather)


"This is a photo of me and my brother taken in 1979 when I was 4 and my brother is 7. it was taken at Olan Mills and there were other photos from this shoot, but none quite as magical this one. This photo is a running joke in our household and hopefully it will be in everyone else's too."
(submitted by Rick)