Siblings
Sometimes, you just wish you could make him go away.
(submitted by Laura)
Brings us back to simpler times when all we needed were a few pumps.
(submitted by Nicole)
You go straight, you're out of the sisterhood. No exceptions. 
(submitted by Kent)
It isn't polite to point.
(submitted by Dana)
By combining their strength, thy were able to muster up some inclement weather.
(submitted by X)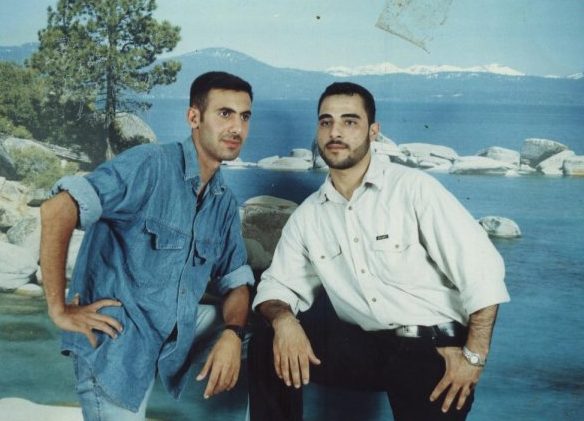 These brothers see things from different perspectives.
(submitted by Samara)
"Our (my brother Mark and I) goal in life was to be cool and nothing says cool like lounging on a car wearing a shirt from Wal-Mart before your "vacation" to the Huntsville Space and Rocket Center 45 minutes away from your house.  Just check out the awkward goodness in this photo:
The Mullet.  This was a compromise between my mother and I.  She wanted me to have Mary Lou Rhetton hair and I wanted long hair like my classmates.  The result?  Feather-backed mullet goodness.  That's not a perm!
Blue Mirrored Clip-On Shades.  I wore glasses, nice thick black with pink splatter glasses.  I loved them but I, again, wanted the cool shades of my peers.  Enter the oversized blue, mirrored clip on shades that would make any state trooper jealous.  I wanted the ones that flipped up, but they were too expensive.
The Dick Tracy Shirt. Again, in a vain attempt to look cool, hip and in the know, my brother and I desperately wanted a Dick Tracy shirt.  I'm pretty sure we had the Nintendo game too.  Confession: I've never seen Dick Tracy.  I just had the shirt.
The Yellow Socks. All the cool kids had colored socks!  I always wanted colored socks, but was only allowed white.  When we got the Dick Tracy shirt I knew it was my chance!
The Wrist Pouch. My brother was on the go, and by on the go, I mean playing with the tool bench behind us.  So what's a boy to do with no pockets in his red short shorts?  Easily wear the 50 cents papaw gave you on your wrist."
(submitted by Kelly)
"This is an old picture I found of my brothers and I – we were getting our passport pictures taken that day, and they decided to get one of all three of us. I'm just guessing that we were sick of taking pictures… we look like the most depressed children ever."
(submitted by Kim)
These sisters have nothing to hide.
(submitted by Patti)
Don't even think about bringing up Tuesday to these four.
(submitted by P)