Family Portrait
"My grandparents immigrated to the U.S. from Switzerland. On a family trip back to their homeland, they posed for this photo in front of a glacier. Armed with ice picks and standing in the arms of a stranger dressed in a polar bear suit, the photo leaves just one question: What do polar bears have to do with Switzerland?"
(submitted by Tim)
And they said it would never work.
(submitted by Jen)
Grandma & Grandpa were proud of their "close" family.
(submitted by Michelle)
"My mom sewed clothes for the family as I was growing up. Since our family sang together in churches in Indiana and Michigan in the 70's, she had the grand idea of making red polyester suits with a hint of orange Polka dots (along with the awesomely huge bow ties). Gotta love ya, Mom! And BTW, I'm the little boy next to dad. Today, my family of 7 children all play in our own family music group, but without the polyester."
(submitted by John)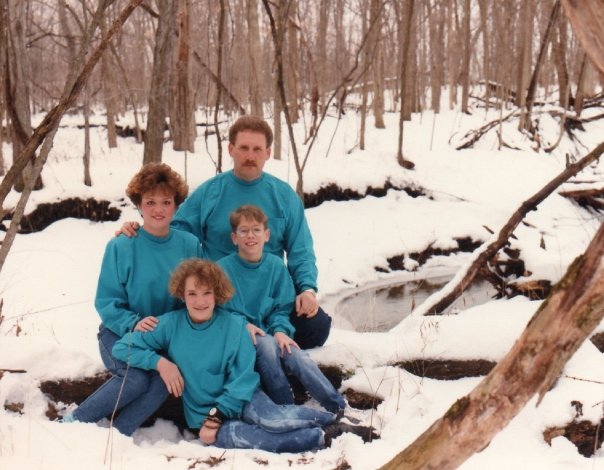 "It was the 80s. My dad thought it was a good idea to take a picture in the woods with snow. The look on his face doesn't validate the brilliance of the idea. Mom chose the color of our shirts. Apparently she expected more of a tropical setting."
(submitted by Tommy)
The rare combination of a photo session and a game of musical chairs.
(submitted by Sarah)
Apparently, this family is allergic to cheese.
(submitted by Steve)
We dare you to explain this one.
(submitted by Nick)
You must eat thirty minutes before taking a photo in this family.
(submitted by Andrea)
"Lombard Street, San Francisco, CA, 1997. While touring the Crooked Street on foot we were witnesses to this fender bender that caused a traffic jam and uproar of tourists waiting for their chance to drive down the street. Our folks felt this was a perfect moment for a happy family portrait."
(submitted by Tiffani)