Family Portrait
With a little mustard and relish, anything will taste good.
(submitted by David)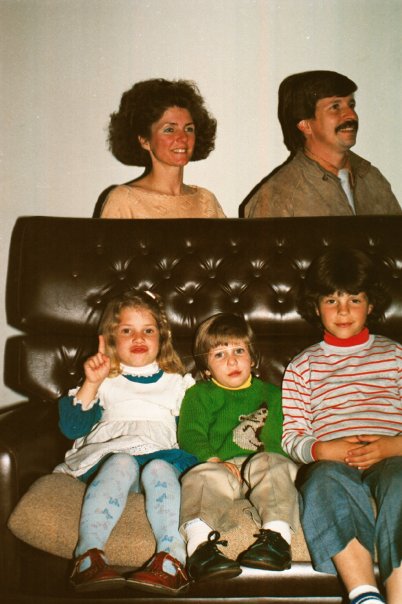 "This is me and my family (I'm the kid on the right) taken probably around '88. My dad was taking passport photos of himself and my mom, and they had to try a few shots to get the size just right. Since he didn't want to waste any film, he had us sit on the couch for the whole photo-shoot."
(submitted by Reuben)

"I was home for the Holiday's after I joined the Navy and completed boot camp. My father thought we should have a family portrait. My brother picked up a knife and held it over my unsuspecting father's head."
(submitted by Mark)

"Me, my cousins and niece and nephew…This is our pic from our old comic convention days from back in 1981. These outfits were built for San Diego Con. Geeks rule."
(submitted by Tony)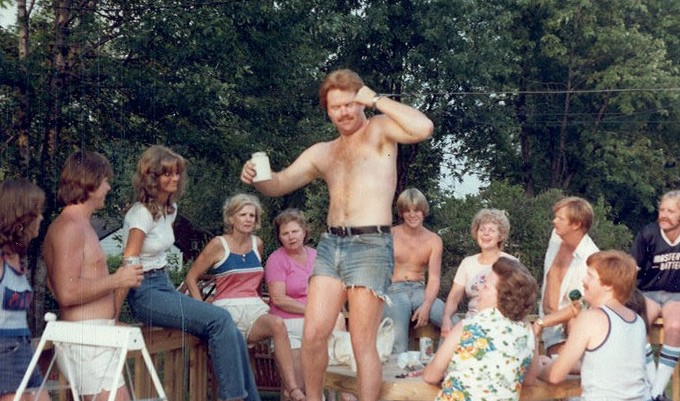 "This is a family picture my aunt found. The ginger with the jorts flexing is my dad. The hot chick who looks like she's from Charlie's Angels is my mom. The rest of my family looks confused/disgusted. I share his enthusiasm for jorts."
(submitted by Ashley)
There's not a straight-shooter in the family.
(submitted by Kelly)
Rest up… the holidays are coming.
(submitted by Melanie)
"The year was 1976. My mom had just come home with that fabulous perm, and, apparently, I asked to have the same done to my hair.  I was three or four at the time, so I'll have to take her word on that.  I do, however remember the traumatic experience of having that fro cut off several days after this picture was taken, because I played in a sandbox too emphatically and my mother couldn't comb through the tangled, sandy mess!  This picture will always make me smile (while shaking my head).  It shows just how tiny our immediate family was – just me and my mom, with dad behind the camera at his studio. It's goofy, sure, but back then, it was just 'us'."
(submitted by Julie)

The museum was facing budget cuts.
(submitted by Mike)
Thank you, Pilgirms.
(submitted by MJ)