Kids

"Remember those plastic easels that we had as a kid? One day while I was visiting my grandparents, my marker fell underneath mine, and it collapsed on top of me. My "concerned" parents decided to wait a bit to see if I could free myself. Mom is taking the picture, and Dad can barely be seen on the left."
(submitted by Mitch)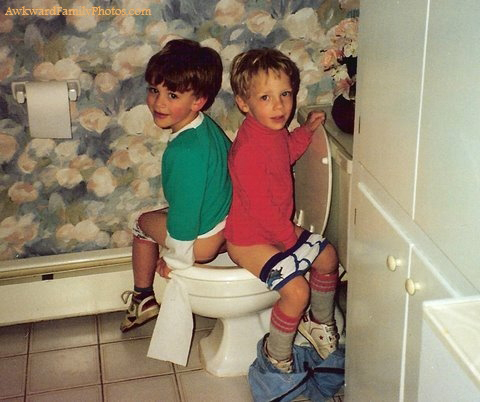 It's just not as fun when you do it alone.
(submitted by Niki)
See the original pic here.

"My younger brother in his 'awkward yet fabulous' phase. Please note the following:
1. Western-style shirt with Christmas-star-snowflake ornament….
2. One exposed skate (just to prove that you're wearing skates?).
3. Indestructible plastic-frame glasses because, of course, the parents were worried about their child breaking the stylish/expensive ones.
4. Gold lamé fabric bringing out the most unsympathetic tones in the ginger kid's skin and hair."
(submitted by Laura)

One more reason to never fear the dentist.
(submitted by Kate)

Not every girl wants to grow up to look like Barbie.
(submitted by Kim)

Somebody isn't as thrilled about the new addition.
(submitted by Don)

If he has chicken pox, we all have chicken pox.
(submitted by Bailey)

Anything for the shot.
(submitted by Beth)

The real question is… what are they doing in boxes?
(submitted by Louisa)

"Donnie Wahlberg awkwardly feeding me a pickle from his cheeseburger. I actually did not know who the New Kids on the Block were. My dad worked on cruise ships and I always went with him. He made me go up there for this picture and I was terrified of them, of course I am now thrilled to have this picture."
(submitted by Shauna)