Kids
"This is a photo of me when I was about 2 years old around Christmas time. I'm at a house that was decorated every year with hundreds of dolls in various Christmas-themed scenes, but what a pyramid of dolls has to do with Christmas, I don't know. I don't remember this at all, so I must have blocked out the creepiness."
(submitted by Erin)
Somebody isn't so comfortable being the center of attention.
(submitted by Tiffany)
"I was 3 yrs old. My mom said I was fascinated with the Big Bad Wolf. I loved pretending to be Little Red Riding Hood and singing that song 'Who's afraid of the Big Bad Wolf?' So she took me to see him. She says I peed on him because I was so scared he would eat me. Note the boy pointing. He was laughing at me. All the other girls have pictures with Snow White and Cinderella. This is my happy picture to remember our trip. My question is: why was this freak walking around at Disneyland?"
(submitted by April)
It takes a real man to chop down a tree and look fabulous doing it.
(submitted by Jake)
If you look really closely, you just might be able to see nothing at all.
(submitted by Howard)
"Remember those plastic easels that we had as a kid? One day while I was visiting my grandparents, my marker fell underneath mine, and it collapsed on top of me. My "concerned" parents decided to wait a bit to see if I could free myself. Mom is taking the picture, and Dad can barely be seen on the left."
(submitted by Mitch)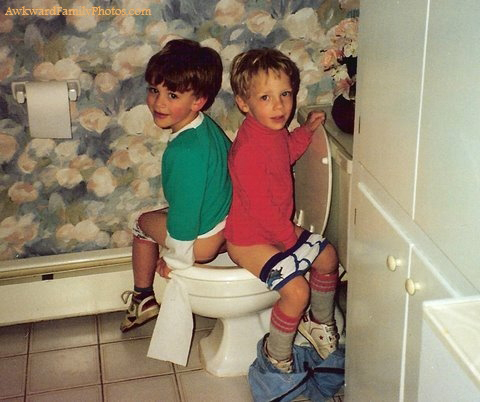 It's just not as fun when you do it alone.
(submitted by Niki)
See the original pic here.
"My younger brother in his 'awkward yet fabulous' phase. Please note the following:
1. Western-style shirt with Christmas-star-snowflake ornament….
2. One exposed skate (just to prove that you're wearing skates?).
3. Indestructible plastic-frame glasses because, of course, the parents were worried about their child breaking the stylish/expensive ones.
4. Gold lamé fabric bringing out the most unsympathetic tones in the ginger kid's skin and hair."
(submitted by Laura)
One more reason to never fear the dentist.
(submitted by Kate)
Not every girl wants to grow up to look like Barbie.
(submitted by Kim)