"This photo was taken by my babysitter and her husband. I did not enjoy it, as you can tell."
(submitted by Crystal)
He was just showing off his spirit finger.
(submitted by Molly)
If Santa didn't freak you out…
(submitted by Dan)
"This Christmas picture is one of my favorites..1999. Our son is in his terrible twos here. We were all posed for the annual picture, had the timer set on the camera and our son falls off the stool. His hand is in his sister's face. Susie and I are trying to catch him and Susie is screaming something….I'll let you fill in that blank."
(submitted by Randy)
Nailed it.
(submitted by Mike)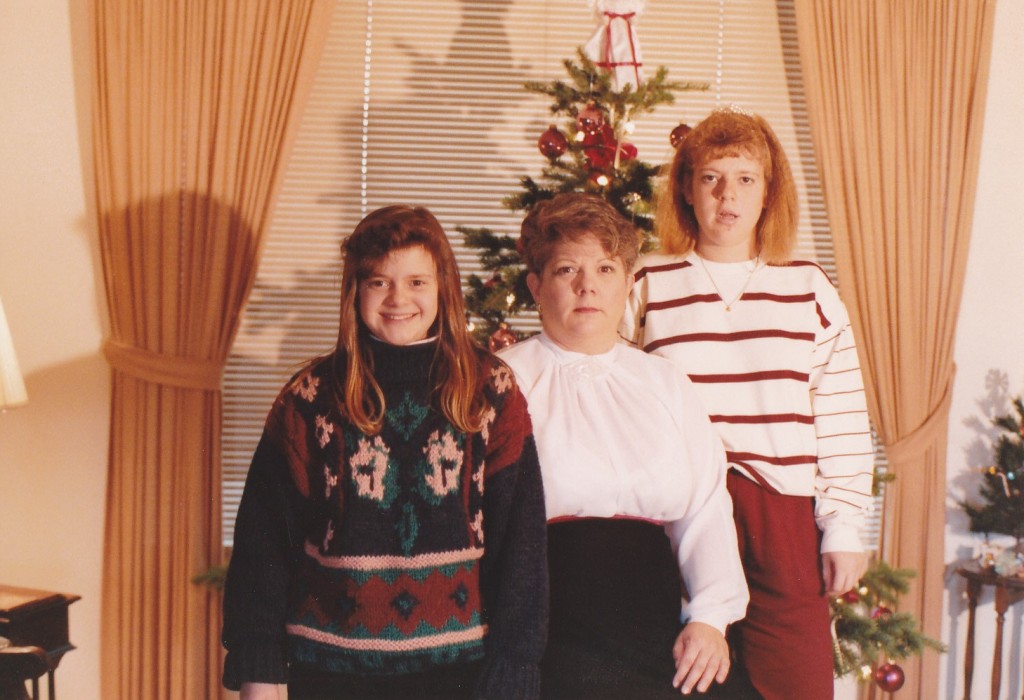 "Each year, our family bought new outfits to color coordinate with the Christmas tree. 1988 was the year of burgundy. My dad did such a fantastic job with the lighting for this photo, it's almost as though he was a professional photographer. Evidently, I was the only one truly happy to be there. I knew the Nintendo Power Pad was waiting for me under that tree."
(submitted by Heather)
"My parents were married just after New Years in 1983. The Christmas decorations were still up and the NOEL letters were on the fireplace. My dad doesn't smile for pictures and you can see my mom trying to get him to at least show some teeth. The best part is that all you can see of NOEL is NO. Pretty fitting for the groom's expression!"
(submitted by Kelsie)
"Every year, we made a family Christmas card that involved us acting out a particular theme that we selected for that year. This particular year, we chose to pull from the story of The Grinch."
(submitted by Martha)
"These two photos are from circa '85. Though my parents had divorced several years earlier, my father came over to my mom's house so we could take our Christmas Card pictures. One photo for Dad to send to his friends and family, and a different photo for Mom to send to hers. Dad thought it would be a great idea for me to stick my hand out of frame so as to imply that Mom, or in the other photo, Dad, was standing just outside the shot. I also really like how the background was meticulously chosen over, say, a shrub or maybe a grill. Here we are, um, in our backyard."
(submitted by Lyzz)