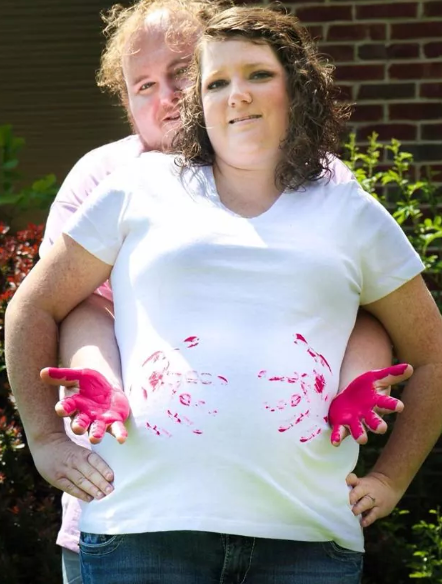 "The photo was supposed to be of my friends announcing they were having a baby girl. But when the photos were developed the pink paint on the shirt looked more like blood. Turning the photo instantly from cute to terrifying!"
(submitted by Jesse)
"My priest owns an African Fennic Fox and decided to bring her to my wedding. Well, this normally tame awesome little creature, that I had met & held the day before, decided to go buck-wild & climb up my neck. Thankfully (I think), my wedding photographer caught it on camera. I was mostly scared it would scratch my gown but it just scratched up my chest…which prompted my awesome priest to say "Oh sorry, she scratched your boobs up." That's my new husband on the right laughing nervously & not saving me btw :)"
(submitted by Amanda)
Throw your hands in the air and wave them like you just don't care.
(submitted by Lauren)
Let's hope they saved their receipt.
(submitted by Allen)
There isn't anything acid wash can't do!
(submitted by Alex)
"In St. Martin and saw a great opportunity to take a nice picture of my husband and son. Right as I snapped the picture my son pinched my husband in a "sensitive spot"….the result was unexpected, classic, and very awkward!"
(submitted by Dana)
She had a few fly-aways.
(submitted by Sonya)
"I think I was about 18 months old when my mother took this picture. I had climbed into the toilet on my own. My parents were a little upset because I was wearing my new leather shoes and my mother thought if she flushed I would get scared but I just giggled and smiled!"
(submitted by Ben)
"My parents hired a photographer to come to the house and take a family picture. I titled it "Shamus Shins" because the angle accentuates the shins on all of us. The looks on our faces is just hilarious! We were all crammed on the couch that us kids were not allowed to sit on in the room we were not allowed in."
(submitted by Melissa)
The sun wasn't the only thing that went down.
(submitted by Erin)