"I am about eleven in this picture. I had just finished washing my mother's car and was walking back to the house to go inside to pour out the water. On my way inside, I tripped and the soapy water sloshed up and into my face. For some reason, this was a catastrophe. I was also, for some reason, convinced that if I opened my eyes, the soap would get into them and blind me. I distinctly recall arguing with my father (who always had his camera at hand and saw this as a golden moment to capture) that I would, indeed, lose my eyesight, even though he kept saying I wouldn't. At this point, I was crushed that nobody would believe me, nobody had the heart to comfort me, and nobody had the care to hand me a towel (I think I ended up using the sleeve of my sweater).
I'd like to say that's just soapy water dripping off my chin, but with the amount of blubbering going on, it's quite likely it's a mixture of both soapy water and drool. And yes, if you're wondering, this moment still comes up in conversations with my father. (My mother says there are too many similar ones for her to recall.)"
(submitted by Heather)
"My brothers and I made this for our parents' 25th anniversary present. I think we were more amused than they, but it still hangs in their house today."
(submitted by Kevin)
"These pictures are of me and my family. The first picture which was taken in 1968 was so awesome that we tried to recreate it in 1979. If we could find another clock picture like the one hanging on the wall, I think we'd try to recreate this picture again."
(submitted by Donna)
He's got it all under control.
(submitted by Statia)
It was her Pièce de résistance.
(submitted by Cole)
"For my parents 20th anniversary, my mom decided to dress up in her wedding dress and get our family Christmas photos done in front of the place they were married. I'm the girl bending over trying to hold down my brother who wanted to get away for obvious reasons. Needless to say, it was not everything my mom had hoped for."
(submitted by Shea)
So this is where babies come from.
(submitted by Stephanie)
The year was 1983 and these are not costumes.
(submitted by Andrew)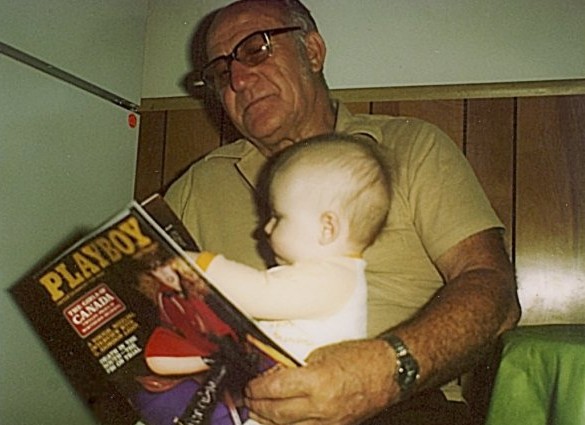 It's was grandpa's favorite bedtime story.
(submitted by Michelle)
It seemed like a great time to catch up on some sleep.
(submitted by Kristen)