If you love your hen, don't be afraid to shout it from the haystacks.
(submitted by Brian)


From the days when "doing the locomotion" actually meant being on a locomotion.
(submitted by Beth)

Miss Muffet has been feeling a little left out lately.
(submitted by Megan & Jillian)

"This is my family circa 1976. It looks as if we are all just a figment of my dad's imagination, and I'm sure there have been many times throughout our lives that he wishes that were the case. My dad has always been the levelheaded one in our family and this picture represents the fact that, when my mother, brother, or I were entertaining any sort of naughty behavior, there was always the vision of my dad lurking over our shoulders."
(submitted by Hollye)

It was only fair that Gary should have to dress up too.
(submitted by Jessica)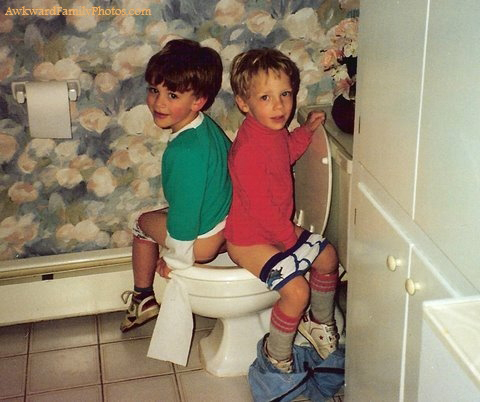 It's just not as fun when you do it alone.
(submitted by Niki)
See the original pic here.

Somebody had a little bit more of their Dinty Moore.
(submitted by Andrew)

"My younger brother in his 'awkward yet fabulous' phase. Please note the following:
1. Western-style shirt with Christmas-star-snowflake ornament….
2. One exposed skate (just to prove that you're wearing skates?).
3. Indestructible plastic-frame glasses because, of course, the parents were worried about their child breaking the stylish/expensive ones.
4. Gold lamé fabric bringing out the most unsympathetic tones in the ginger kid's skin and hair."
(submitted by Laura)
We've received so many wonderfully strange family pet photos over the past year that we decided they needed a home of their own. We hope you'll check out the all new AwkwardFamilyPetPhotos.com.