When I was 11 my parents divorced and my mom married my dad's brother. As if that isn't awkward enough… when my brothers and I got older, we eventually had to break the news to our soon to be spouses. When I told my fiance, he said "Don't tell my family."  So came time for our parents to meet. Everyone introduced themselves. My mom, dad and stepdad/uncle where all there (yet another awkward moment) I guess as an ice breaker my uncle/stepdad says "So did Susan tell you I'm also her uncle"?  My fiances mom started coughing then started choking. The ambulance was called, but thankfully I know the heimlich and got the piece of food out right away. After that though my fiance's parents left, and haven't seen my family since. Can't wait for the wedding… awkward.
(submitted by Susan)

"In the photo is my grandpa holding me as a baby in 1989. After grandpa retired, he started a side job as a clown, where he'd go to birthday parties and do magic tricks. He also often wore his boxing shorts from his days as a heavyweight boxer at Michigan State. He was dressing up to entertain the grandkids that day, and the boxing/clown combination certainly made for an interesting photo."
(submitted by Darcy)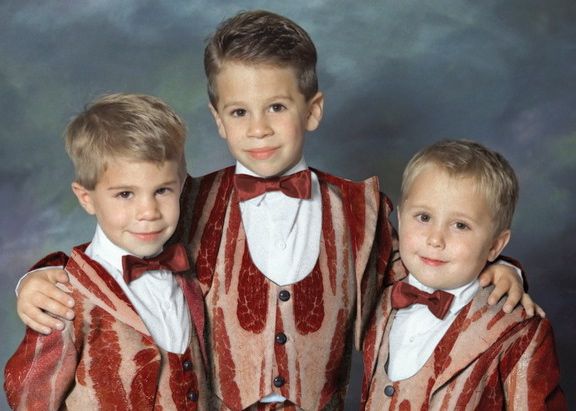 Someone's feeling a little left out.
(submitted by anonymous)
So, my boyfriend's mom sent him this email prior to a weekend with her and her mother….
Dear xxxxxx,
When you come to Mooresville please bring my black computer cord. I think I left it in your bedroom. Also, there is a blue Delta blanket on the couch which I brought there. Could you bring that too?
There is a problem about mom's house and you may want to stay in Thomas' house after the first night. Mom's toilet doesn't flush big number twos. I had to wrap mine up in plastic bags and newspapers last night and put it in the garbage. It is really terrible but she has a toilet designed to use less water, for economy purposes. I try to go elsewhere if possible and you should too.
Also, mom doesn't want you and Jane sleeping in the same room because you are not married. Jane can sleep in the room with me and you can either have the other guest room or sleep on the porch with Milly. I'll try to get a sleeping bag from Thomas.
I am planning on making a vegetarian chilli pot for Jane. There is also ham and cheese for sandwiches and plenty of yoplait. You are to help yourselves to the refrigerator.
Talk to you soon.
Love, Mom
(submitted by anonymous)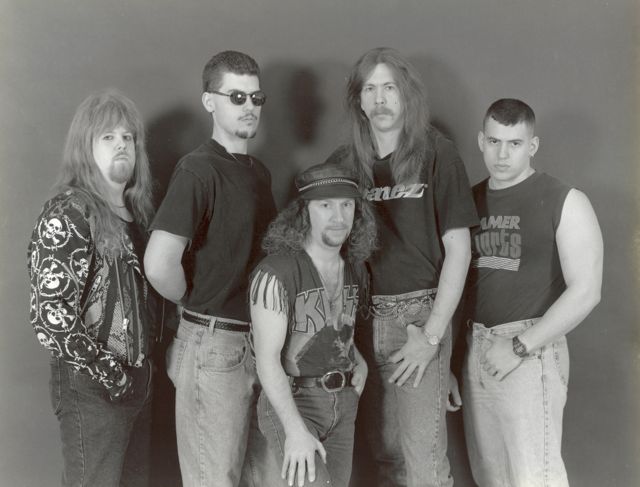 Feeling inspired by the movie Anvil, we decided to post this photo of another form of a family… the band. Although Area 57 and their music are no longer with us, their awkwardness will rock on forever.
(submitted by James)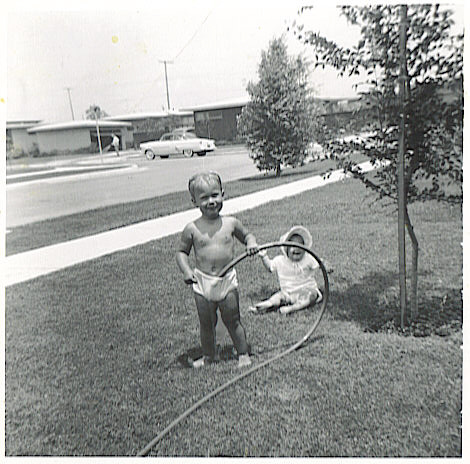 A literal interpretation of "hose-down."
(submitted by Brynn)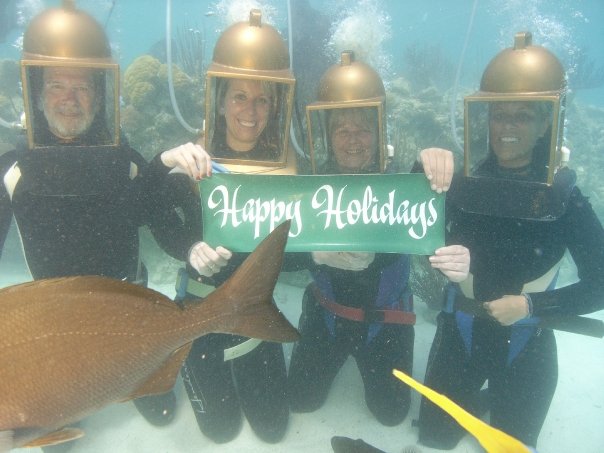 Even Jacques Cousteau would agree this holiday card has a certain je ne sais quoi.
My entire extended family was sitting together for Christmas dinner when the topic of fidelity came up… great topic for the dinner table I know. So my mom goes off on a rant about a lady she knew who cheated on her husband while they still had young children and ended up marrying the man she had this affair with, and how that was the most despicable thing to do to a family, and how she didn't know how this lady lived with herself after ruining her first marriage, on and on for about 10 minutes… and my aunt interrupts her to comment, "You do remember that Jim and I met and started our relationship while I was still married with young children with my husband Charles, right?" Awkward.
(submitted by Iris)

"My friend's cruise pose."
(submitted by Effendi)