Uncle
"Hi Everyone,
Well after cruising along for 428 miles, I arrived at the KOA campground in Bismark. It was fairly empty when I first pulled in around 5:00 but by the time I came back from my Dairy Queen run, most of the drive through spots are full. Most of the tent spots are still empty.
There were two notable things today. Normally when going to the lake I can leave the milage display on the screen and see that I cruise along at 65 MPH with a normal weekend load of clothes and food and get around 24 MPG. Today towing the trailer and attempting to keep up with the 75MPH speed limit (which everyone seems to be ignoring) the jeep only gets about 11 MPG. So I made a few extra gas stops and noted how long it was between stops. There is a lot of open country out here in North Dakota. I sure hope when I turn south to go to the bike race that I find enought gas stations. I note that I will be taking mostly 2 lane roads so I will only be going around 55 MPH, so the milage should be better. It is the long distances between "towns" that worries me. I saw the sign for gasolene on an exit and took the exit. It was 5 miles to the town, and the station was shut. (its Sunday!). Fortunately a friendly person walking down the road gave me directions to get gas without going right back to I-94. However when I started back out from the gas station, my GPS started telling me to drive 133 miles south on the two lane road to continue my journey. I ignored that advice and asked for more directions from a local and only had to go on a couple roads that the GPS apparently did not know about to get back to I-94. Maybe I should have downloaded new maps to the GPS before I left the house. It is only 6 weeks old, so I figured it had to be fairly up to date.
The other thing that really struck me is how big motorhomes and trailers have become since I last camped on a trip in the 70's. I would say that at least 1/2 half of the "campers" here are with giant motor homes towing jeeps or trucks or they are fifth wheel trailers. The folks next to me have a fifth wheel toy hauler with their Harley's in the back and the "living quarters" in the front. Like I mentioned, no real tent campers here.
Tomorrow's only planned activity is the river boat ride on the Missouri river and maybe visiting a few of the historical sites in Bismark and Mandan. I also want to find the city park since someone wrote about in on the web and said it is the best campground in the area. It supposedly is on the river so maybe when I find the boat ride I can find the park.
Thats the news for now. No campground pictures since it would look like last week's pictures. There is a quick snapshot of the car and trailer as I finished loading up this AM."
(submitted by Lisa)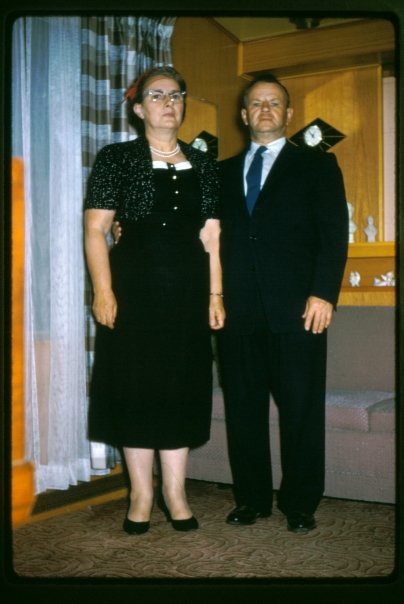 No matter what you do, you will always be in trouble with these two.
(submitted by Eiler)
"This is a photo of me, my late cousin, Mike, my uncle Reed, my grandfather Richards and for some unexplainable reason, a live possum.
I am embarrassed to say that this photo was sort of planned. We were out working in the pasture splitting firewood, and when we came in from lunch, my grandmother apparently thought we looked photogenic, and made us get in the car over to Olan Mills in Douglasville, Georgia.
Glad I could share the joy on this one. Whenever I see it, the Dukes of Hazard theme starts playing in my head…"Just some good ole boys, never meanin' no harm…"
Michael and I were the only two boys of all the cousins on my mother's side, so he was really like a brother to me growing up. He died doing what he loved, and we all miss him terribly. Mike was a a tow-truck driver, and at his funeral there were literally hundreds of people, and dozens of wreckers. Mike's wife got a special permit so that they could transport his casket on the back of his wrecker (and it was bungie corded down!) and at every stoplight on the back roads between Douglasville and Marietta where he is buried, there was a tow-truck with it's lights on blocking traffic for us.
At one point, a car tried to pass on the right to pass the funeral procession, and some of Mike's friends headed it off, and almost got into a fistfight with the driver (which was right in front of us). I turned to my wife and said, "that is how Mike would have wanted it: A fight at his funeral!"
In any case, the hat my uncle is wearing is from Southern Tech (Which is Southern Poly now) and my grandfather's hat was advertising some feed store. My grandfather has a masters degree, and my grandmother (his wife) had a PhD. I just got my MBA, so it just goes to show you that you can't educate the redneck out of a redneck."
(submitted by Ernie)
It was my Nana and Grandad's 50th wedding anniversary, and there was this big party for them held at my uncle's house. I'd been avoiding showing them a tattoo I have on my hip in fear that they'll judge me and disown me somehow.
In a moment where I forgot how short I was, I stretched out for my tattoo to be on show for all to see. At first my Nana looked shocked, until she announced to my family;
"No need to worry Kate, me and your grandfather each one have on our bottoms. He swats my butterfly and I chase his steam train on a regular basis…"
Awkward.
(submitted by Kate)
When I was first getting to know my fiance, he had mentioned he didn't know who his father was until he was 5. Because his mom had remarried while he was very young. As I thought about it, I asked him, "Did you ever question why you had a different last name?" He said, "Nope, because my grandfather had the same last name as me." So I asked "Well, he's your grandfather on your mother's side right?" (meaning that he had his mothers madien name)
He said "Well, sorta" I asked for him to explain. He made me promise not to laugh. So I agreed. He then went on to tell me, "It's my mother's mom, see my mother's father died 2 days after she was born, so she remarried." I was confused now. How did he have his grandfathers last name if it wasn't his mother's father? Well, as he went on to explain, while his mother and birthfather were dating, his mother's mom and his father's dad fell in love. So after his mother and birthfather got divorced. His mother's mom and father's dad got married. Meaning, His parents are also Step brother and Sister. How awkward.
(submitted by Kathleen)
When I was 11 my parents divorced and my mom married my dad's brother. As if that isn't awkward enough… when my brothers and I got older, we eventually had to break the news to our soon to be spouses. When I told my fiance, he said "Don't tell my family."  So came time for our parents to meet. Everyone introduced themselves. My mom, dad and stepdad/uncle where all there (yet another awkward moment) I guess as an ice breaker my uncle/stepdad says "So did Susan tell you I'm also her uncle"?  My fiances mom started coughing then started choking. The ambulance was called, but thankfully I know the heimlich and got the piece of food out right away. After that though my fiance's parents left, and haven't seen my family since. Can't wait for the wedding… awkward.
(submitted by Susan)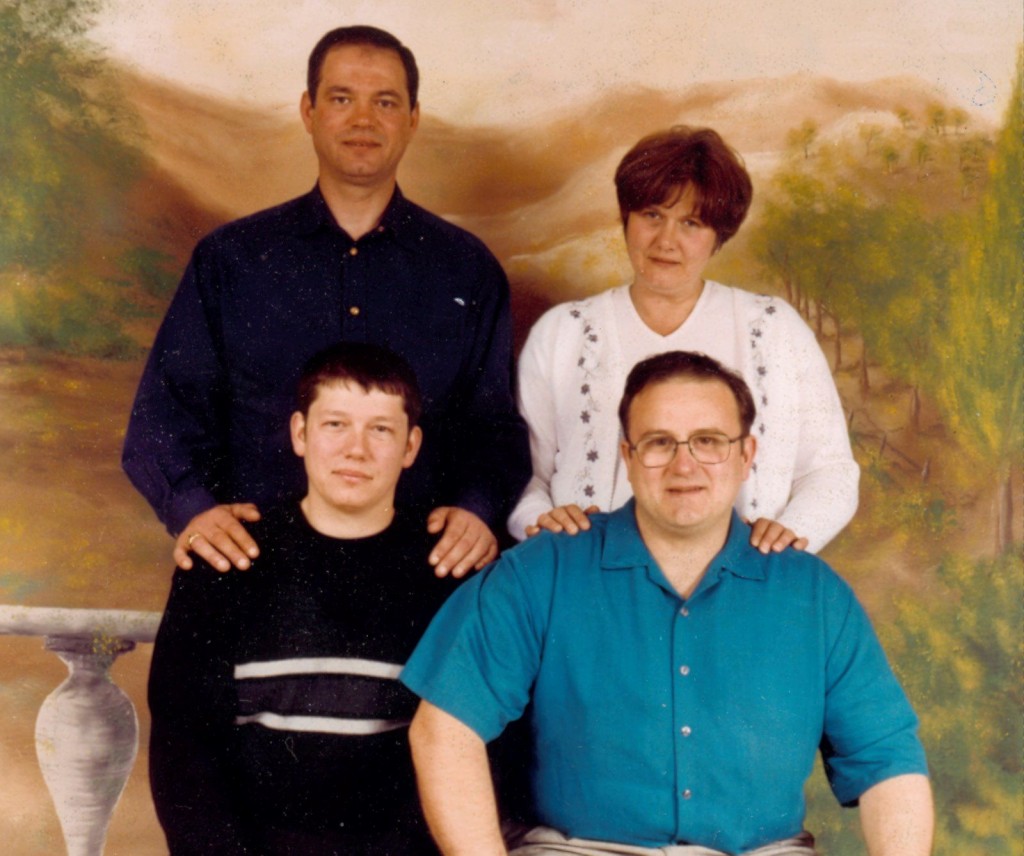 You may use your calculator for this equation.
(submitted by The Bonfield Family)