Babies
He just knew himself too well.
(submitted by Kevin)
"At the time of this photo, my family lived in a small town off a busy highway. My little sister was ever wandering off, wherever we went; and she had a tendency to put everything in her mouth. We needed a solution to keep her in sight and out of trouble, while we were outside doing yard work. The only thing we had was baling twine, which we kept tied to the gutter. We had to put her on her "leash" often, which makes her adult preference for bondage rather… awkward."
(submitted by Cindy)
"This is our daughter, Keira, soon after she was born. I hadn't quite learned to swaddle her correctly and my wife hadn't quite learned to burp her correctly. Ah, new parents."
(submitted by Kari)
It's a good thing he wore red.
(submitted by Joseph)
It was so hard to choose just one.
(submitted by Daniel)
He was always camera ready.
(submitted by Cory)
The color is all wrong for her.
(submitted by Sara)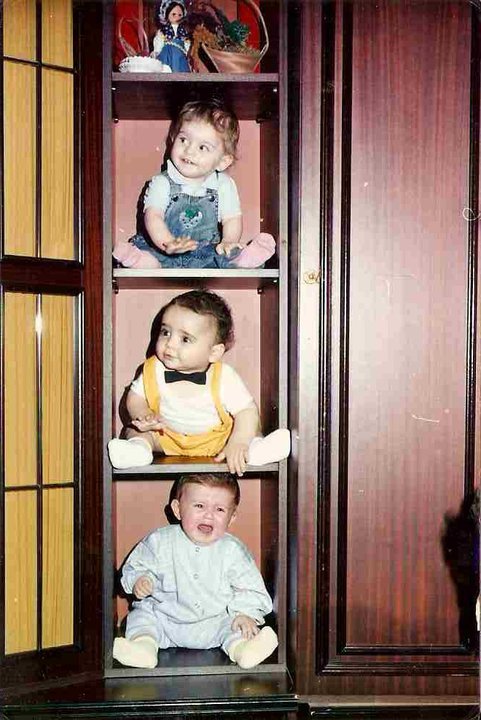 "My cousins and brother were placed there by my uncle. Clearly my brother was not happy about being part of Grandma's collection."
(submitted by Marigona)

Out with the old. In with the new.
(submitted by Lucas)
"My mom and the other lady in the picture have been best friends pretty much since birth, so when they had babies at the same time they thought it would be cool if we ended up together. The other guy is my age and even though we live 700 miles away from each other and have had no contact, we have mutual friends. Unfortunately, I already showed this picture to some of our mutual friends and I'm pretty sure he knows who I am now. At some point, we're going to run into each other. I don't even know if this will be an icebreaker, or just the elephant in the room."
(submitted by Aubrey)