Halloween
"My mom said she was dressing us up as "The California Raisins." As I look back on this photo and share it with friends, I really think she was dressing us up as two turds."
(submitted by Brandi)
Store-bought is overrated.
(submitted by Ashley)
All you need is imagination… or is it?
(submitted by David)
"My birthday falls on Nov 1 so as a kid it was always celebrated on Halloween."
(submitted by Irv)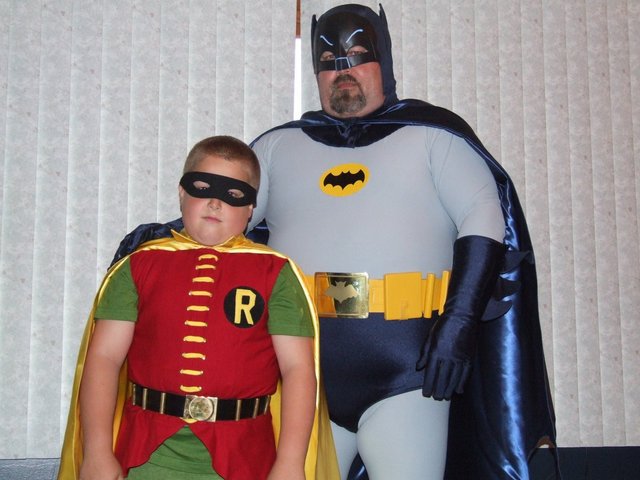 Who were these masked men?
(submitted by Jaxon)
Celebrating Easter on Halloween is only the second thing questionable about this photo.
(submitted by Cory)
Halloween is no laughing matter.
(submitted by William)
"My mother was usually creative decided to make us an "organ grinder and his monkey". Inside the organ grinder was a tape recorder with a tape of marching band music. As you can see my jerk brother was reminding me to stay close to him at all times….blah blah blah. I HATED that costume and did not want to wear it…….in the end at least we got a ton of full size candy bars than the kids with the garbage bag costumes and masks."
(submitted by Karl)
"Having an identical twin sister growing up in a house without a whole lot of money could be interesting at times, especially when my Mom was feeling a little crafty. She saw something on tv about making costumes out of stuff you have around your kitchen, so she collected receipts, coupons, paper bags and cracker boxes. She then cut the cracker boxes into masks and cut arm holes in the bags. She taped everything on, (not stapled or glued)…taped! We kept ripping and falling apart with every step we took on our class parade. The teacher had to follow us around with more rolls of tape while we walked. My sis and I got upset because the parents kept saying, "oh my gosh! Look at the garbage bags!"
(submitted by Joy)
Mom has got you covered.
(submitted by Ruth in the UK)