Mom & Dad
Any photographer will tell you that there are few subjects greater or more challenging than the human face and any attempt to alter or retouch something so complex must be done...
"My mom and stepdad are runners. I don't think I read their motivational sign correctly the first time."
(via source)
"My parents just got a hot tub and were very excited about it. Therefore, my grandma hired a professional photographer to take a family photo in the hot tub. For some reason they posed with wine and candles even though the children were not old enough to drink… and sent it out to 150 plus friends as a Christmas card."
(submitted by Brittany)
"I was looking through an old photo album at my in-laws' house and thought I'd found a nice picture of my husband, his brother and their parents. Then I saw the sign from the store in the background. Nice place to take a family photo!"
(submitted by Ashley)
"When Mom and Dad kiss in front of you."
Photo by Kayla Locke, Locke Photography
"We shelled out the bucks to stay at this lovely lakeside resort in McCall, Idaho. The hope was to capture a scenic and memorable photo for our annual holiday/Christmas card. 'Memorable' is what we ended up with  because we dared to suggest our two year old say 'cheeeeeeze' for the photo."
(submitted by Anita)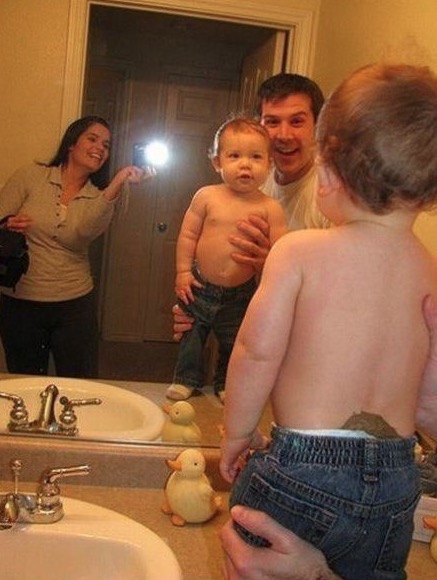 "As a parent, this is only funny the first time."
(via source)
Yes, it's Thanksgiving again. Every year around this time, families all across the United States cross great distances, brave storms and crowded airports, and spend hours...
"My mom and her ex-husband in Russia had a mural of Marlboro Red cigarettes. They were extremely hard to get back in the day and I guess they were proud of their collection."
(via source)