Recreations
"The first picture was taken in 2000, and the recent one was taken in 2015. This tree was in our grandfather's front yard, and every kid to grow up in the family played in this tree. Our Father captured the cute photo of us as children and it kind of became "The picture" that everyone hung in their houses. After 15 years we decided to recreate 'the picture' and it was hilarious."
(submitted by Alexandra) 
"My brothers and I decided to recreate our mother's favorite photo of us for Mother's Day – 20 years apart"
(via source)
"Between his giant, hairless head and his adorable neck wrinkles, my fiance, Andrew, still looks exactly like his baby pictures. The first time I visited his parents and saw the old photos, I knew what their Christmas present would be the next year.
I scanned in the original sepia toned baby pics, and spend a day demanding Andrew recreate them. This wasn't as fun as we thought it would be, because it involved me directing Andrew to do impossible things like "make your chin more wrinkled, but don't tip your head down. Look towards the sun, but don't squint and don't frown. Giggle like a baby! No, no, not like that. Be more cute! Eyes wider but also make your neck fatter and relax your shoulders! Stay still while a smear this donut on you."  Anyway, we learned I'm bad at art directing and he's real bad at being a baby, but the photo collage came out amazing. He's adorable, then and now."
(submitted by Katie)
"Happy Easter from my family to yours."
(via source)
"The was a re-shooting of the famed kids photo of our childhood we always called the Oscar Meyer kids picture for some strange reason."
(submitted by John)
"My brothers and I decided to try recreating an old photo for Mother's Day this year. This was the result."
(via source)
"Family portrait 1975 & 2015"
(via source)
"Four siblings – 1988 vs 2015."
(via source)
"My brothers and I recreated a portrait from our childhood 18 years later."
(via source)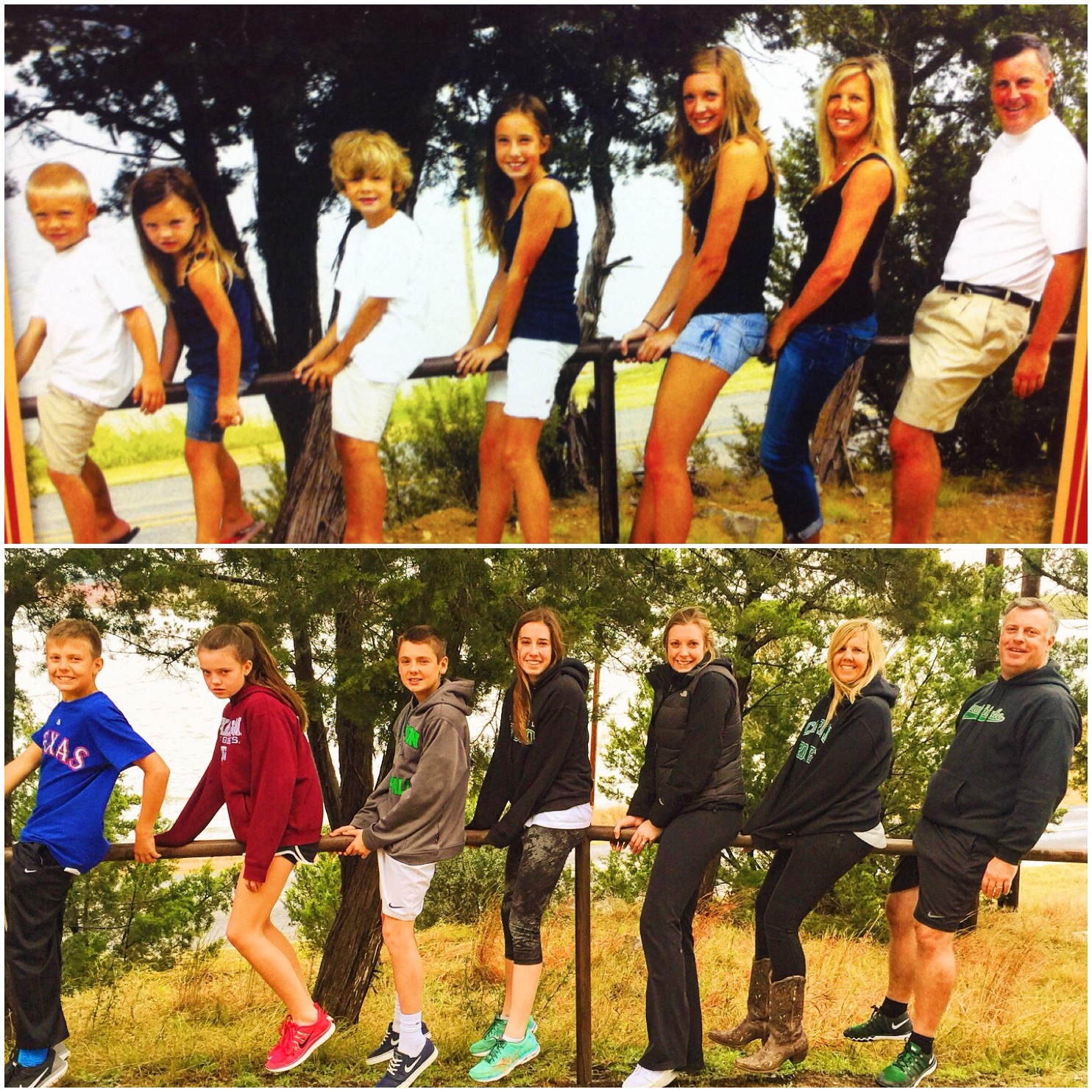 Well, every now and then, we open our inbox and hear from one of our classic AFP families. Tim Wright sent in this awesome recreation of their pole-rrific original.
Thank to Tim and the whole Wright Family and we encourage everyone to check out their website and YouTube vlog at TheWrightClan.
(via The Wright Family)