Family Portrait

All those hopes and dreams of him becoming a doctor just don't seem important anymore.

"This photo was taken in August 1984. I was 10 and my sister was 13 (although she looks 40). The Cabbage Patch Kid was Emalia Arlene, and I swear she never left my freaking side. With my boy haircut, huge glasses, and braces, I look like such a mess."
(submitted by Jennifer)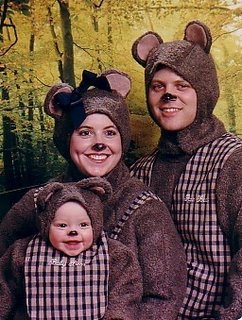 Not since "Mommy the Pooh" have we seen such parental commitment.
(submitted by anonymous)

"This is a photo of me, my late cousin, Mike, my uncle Reed, my grandfather Richards and for some unexplainable reason, a live possum.
I am embarrassed to say that this photo was sort of planned. We were out working in the pasture splitting firewood, and when we came in from lunch, my grandmother apparently thought we looked photogenic, and made us get in the car over to Olan Mills in Douglasville, Georgia.
Glad I could share the joy on this one. Whenever I see it, the Dukes of Hazard theme starts playing in my head…"Just some good ole boys, never meanin' no harm…"
Michael and I were the only two boys of all the cousins on my mother's side, so he was really like a brother to me growing up. He died doing what he loved, and we all miss him terribly. Mike was a a tow-truck driver, and at his funeral there were literally hundreds of people, and dozens of wreckers. Mike's wife got a special permit so that they could transport his casket on the back of his wrecker (and it was bungie corded down!) and at every stoplight on the back roads between Douglasville and Marietta where he is buried, there was a tow-truck with it's lights on blocking traffic for us.
At one point, a car tried to pass on the right to pass the funeral procession, and some of Mike's friends headed it off, and almost got into a fistfight with the driver (which was right in front of us). I turned to my wife and said, "that is how Mike would have wanted it: A fight at his funeral!"
In any case, the hat my uncle is wearing is from Southern Tech (Which is Southern Poly now) and my grandfather's hat was advertising some feed store. My grandfather has a masters degree, and my grandmother (his wife) had a PhD. I just got my MBA, so it just goes to show you that you can't educate the redneck out of a redneck."
(submitted by Ernie)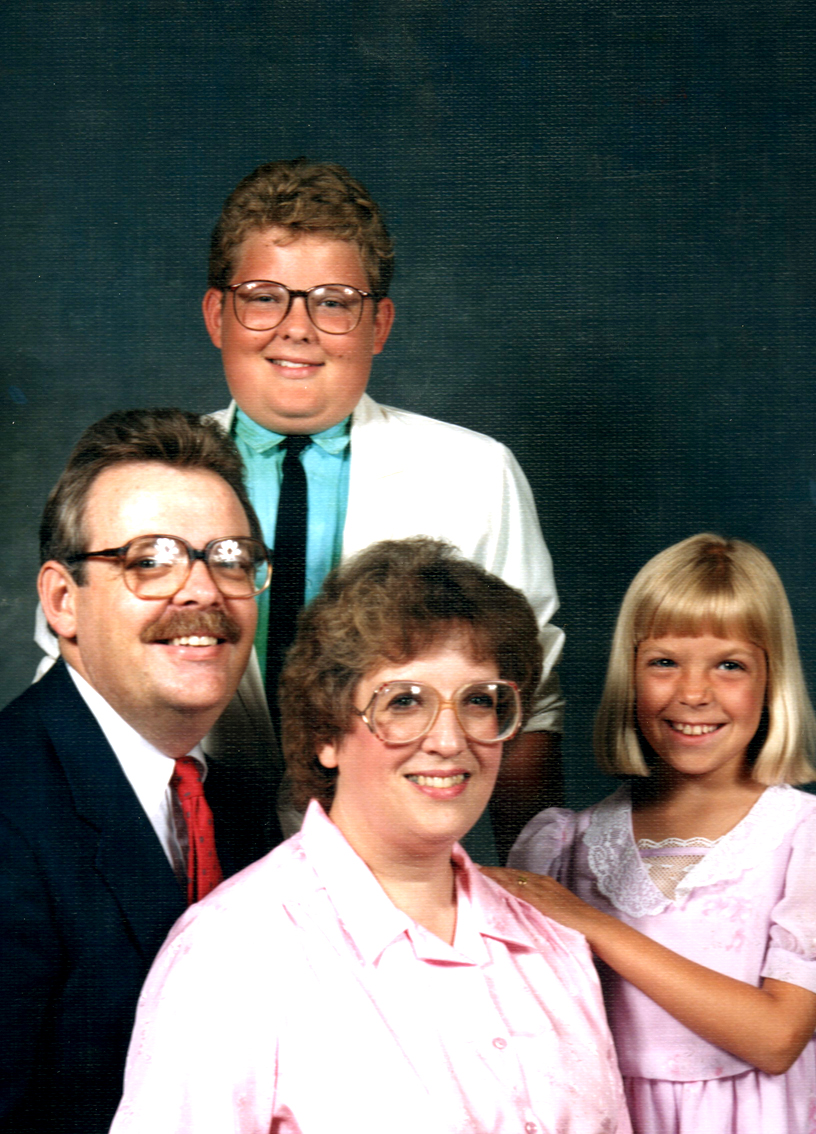 Some people just have to be the off-center of attention.
(submitted by Dan)

"This is my family showing that windsuits are not just seasonal apparel. For the years of 1990-1995, this was our default family outfit for weddings, funerals, bar-mitzvahs, and the like. True story."
(submitted by Kate)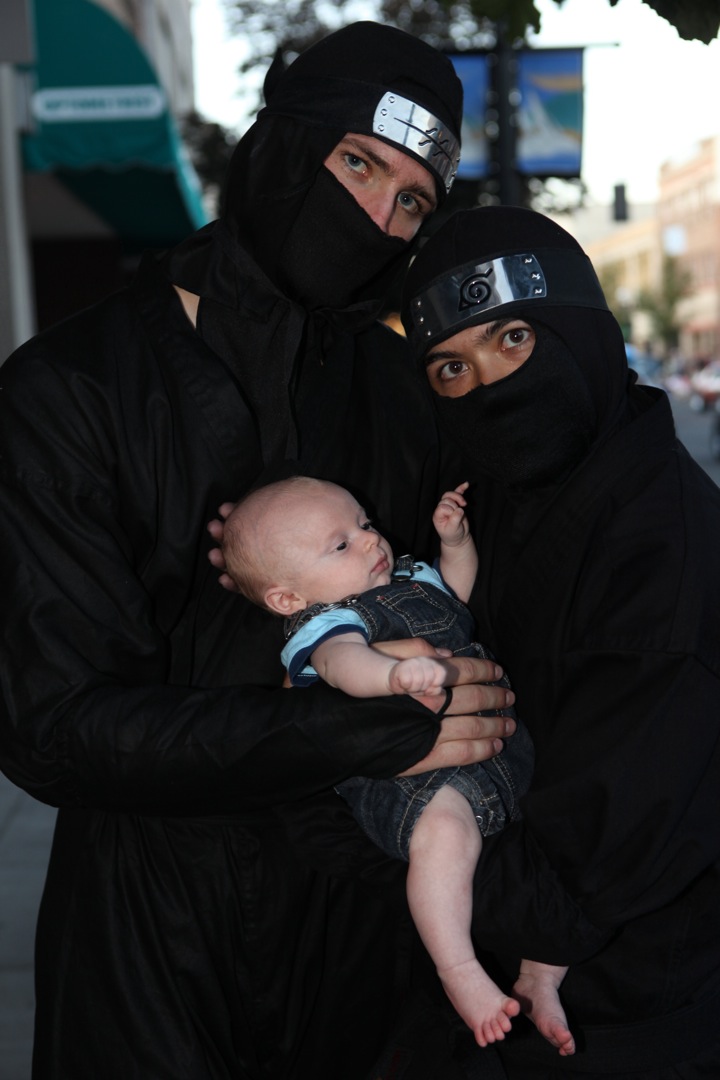 Statistics show that children who grow up in a two ninja household are three times less likely to invite a friend over for dinner.
(submitted by Ariston)

Bacon brothers, meet the Cactiis.
(submitted by Freddie)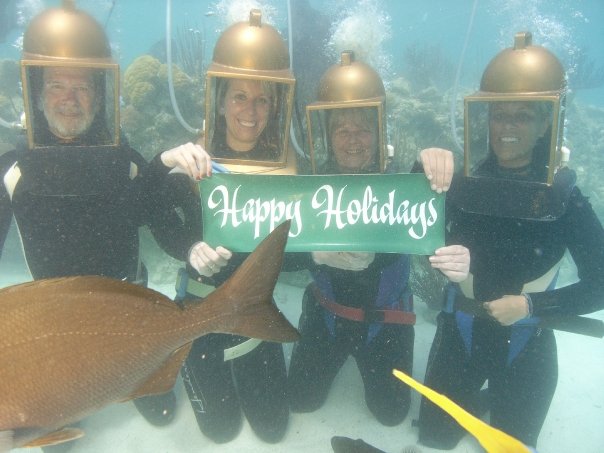 Even Jacques Cousteau would agree this holiday card has a certain je ne sais quoi.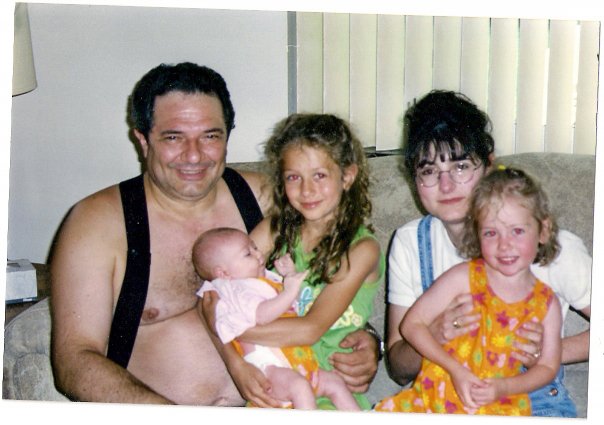 When wanting to accentuate the fact that you're half-naked, we recommend suspenders.
(submitted by)