Always have a backup flower girl.
(via source)
"My mom is moving and cleaning out her house… she sent this to me while I was at work. I believe I had blocked out the memory of this event… for good reason." #bracesandlace #mortified #spitoutmystarbucks
(submitted by Michelle)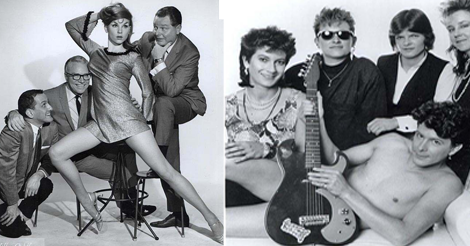 Back in ancient times, , music promotion was simple: bands would hit the photography studio for some publicity photos, and then when that band would travel to a new city for a...
"Four generations gathered for Christmas a couple of years ago. We thought it would be fun to get a shot of our 7 grandchildren, who rarely get a chance to see each other. Just as I snapped the picture, the littlest, Eli, somehow slipped off the railing. A treasured family memory!"
(submitted by Donald)
"This was a Christmas present to our mom. I guess you can tell we all loved heavy metal music and had the hair to match. The guy on the back right is the oldest of the four brothers and yes that's his real hair. The one in the front left is me, the youngest of the four, and yes that was my favorite belt-if you look real close you'll notice that it didn't fit anymore. I was pissed that I had to take this picture. This family photo was taken at Sears in 1987. We asked if they had an ally way for the back drop, but had to settle for a plain one.
(submitted by Phillip)
Things are about to get weird. Read More
These vintage Japanese adverts from the 60's and 70's make perfect sense to Japanese people in the 60's and 70's. Read More
"I asked our son to send us a picture from prom. He said he only had one."
(submitted by John)
"My sister and I thought it might be a good idea to have our kids' photos taken as a Christmas present for my mom.  With two hungry, tired newborn babies and a bored 3 year old, it was quite possibly the worst day of our lives.  This was the best pic we could get of all three of them."
(submitted by Colleen)
Imitation is the sincerest form of flattery.
(submitted by Traci)