"I found this photo while going through old albums for my grandmother's viewing.  The couple in the picture were friends of my grandparents.  The woman made puppets and put on puppet shows for kids' birthdays.  According to one family member, "She wasn't very good."  And apparently, she was a little too attached to those puppets."
(submitted by Lauren)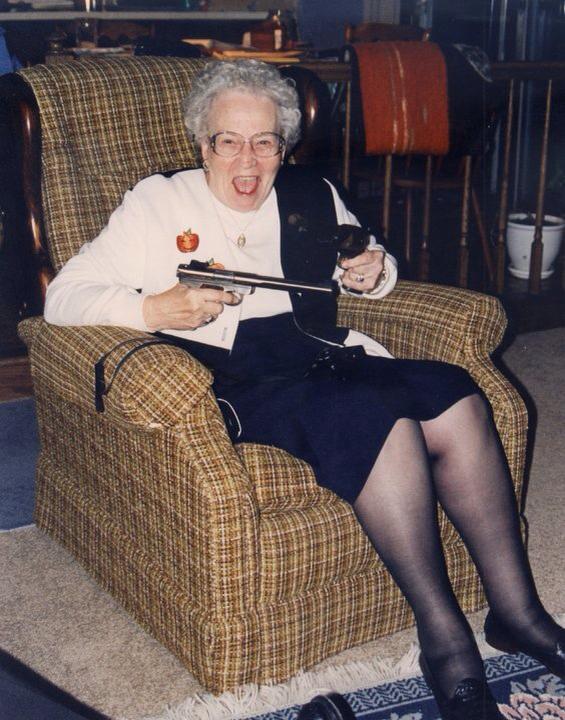 "In 2010, we sent you this spunky picture of our sweet Grandma Nadine (taken years earlier). We are saying goodbye to this beautiful woman on Tuesday, but are forever grateful to AFP for memorializing her spunky attitude on your board game. She got a kick out of being a part of the AFP family! Thanks for sharing our fun memories!"
We are sending our love to Lisa and to her legendary Grandma. Her spirit and spunk in this photo will live on forever.
(submitted by Lisa)
Awkward Rule #723: The self-frame.
(submitted by Tim in Canada)
"I was 6 years old.  My mother was obsessed with me being Annie because I had curly hair.  So, she fluffed it up, bought me a red dress and a stuffed dog and had my picture taken.  I can't sing, I can't dance and had no interest in theater.  Hopefully, the photo was enough for her dream."
(submitted by Kristi)
Scenic.
(submitted by Vicky in the UK)
"The first professional photo of my husband and I together. The cameraman had assured us that our son would not be in the picture…..now it's my favorite picture and our first family photo!"
(submitted by Kelly)
The heat is on.
(submitted by Drake)
Four brothers, but only one thumbshelf.
(submitted by Christian)
The yellow accents really bring out the yellow accents in this family.
(submitted by Jeffrey)
Keeping it classy.
(submitted by Ronald)