They have matching tattoos.
(submitted by Bob)

If you look really closely, you just might be able to see nothing at all.
(submitted by Howard)

Sometimes, you just wish you could make him go away.
(submitted by Laura)
Thanks to Facebook I now receive messages from a great aunt I haven't seen in 35 years. She an old southern gal that can't seem to find the cap lock key 🙂
IM SURE ALL WILL BE GLAD TO ADD YOU. THEY ARE ALL ON MY PAGE. JIMMY HARTWELL AND HIS WIFE BETSY IS ON HERE. THEIR KIDS DOUGLAS AND SHANE. BOBBY IS IN NURSING HOME IN ELBERTON, BUT HIS SON BILL HARTWELL IS ON HERE. AND DOYLES GRAND KIDS. BILLY HARTWELL HIS SON AND WIFE IS ON HERE.IT'S SO GREAT WE ALL CAN TALK TO ONE ANOTHER. I HAVE MY DAUGHTER BETH IS ON HERE AND ANN'S DAUGHTER CARLA IS ON HERE. SOME OF GARTHEL GRAND KIDS IS ON HERE. TOMMY ANDERSON DAUGHTER IS ON HERE WEYMANS ANDERSON THERE KIDS ARE ALSO ON HERE, SO WE HAVE GOOD MANY EVERYONE CAN GET TO KNOW THERE KIN PEOPLE.
(submitted by Cheryl)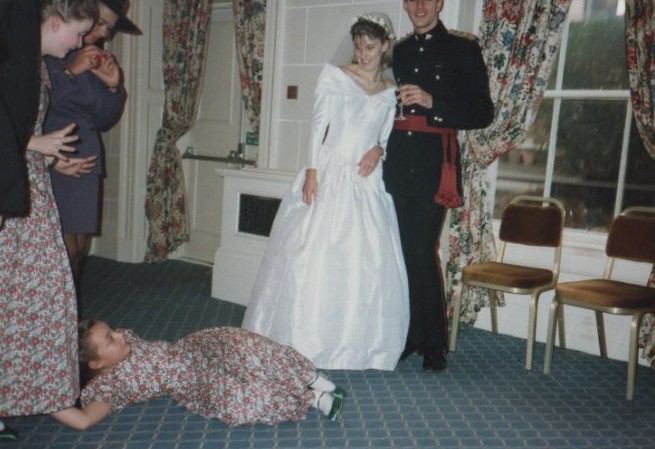 "This here epic photograph was taken about twenty years ago in England when my aunt and uncle were married. The photographer was trying to take a photograph of the happy newlyweds when my sister walked in front of them. She soon realized her error – as she was in the way of the photographer – so she decided to dive to the ground in an effort to not 'get in the way.' As you can see, she failed at her attempt to remain unseen and the awkwardness prevails."
(submitted by Jessi)

Even patriotism has its limits.

Apparently, someone wasn't patriotic enough.
(submitted by Ken)

"Explain this to me one more time."
(submitted by Janna)

And this is considered a lap-bull.
(submitted by Laura)

Every generation, a rebel emerges.
(submitted by Dani)