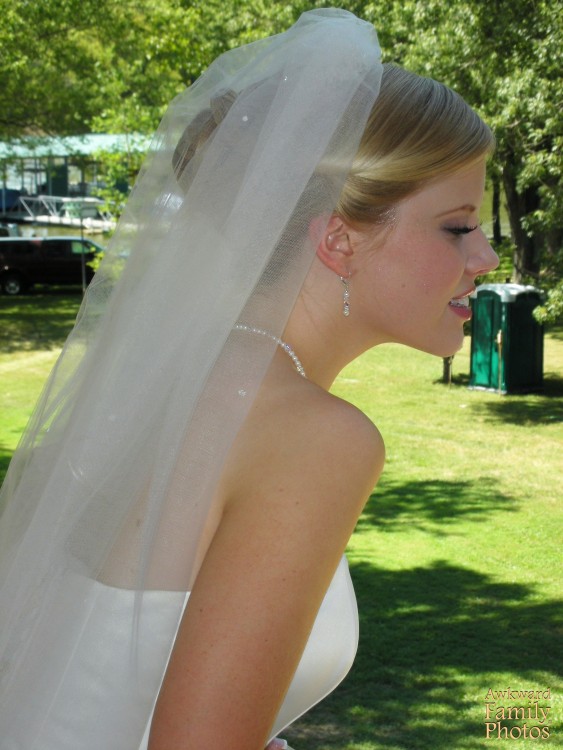 This picture was taken at my wedding, which took place outdoors and yes, we did have a port-a-potty for our guests. My uncle was the photographer and this was a sign of his "professionalism."
(submitted by Katie)

We got your back.
(submitted by Lauren)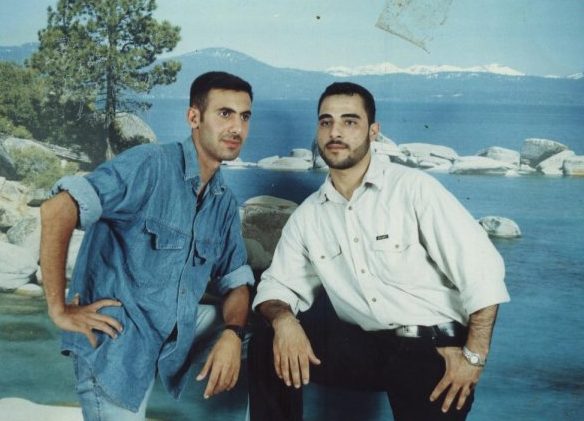 These brothers see things from different perspectives.
(submitted by Samara)

The only way to get this family to take a photo was to lock them in a room together.
(by Rachel)

Last we checked, being in a fraternity did not qualify as a talent.
(submitted by Joseph)

Everybody wants a piece of the Captain.
(submitted by Zoe)

"Our (my brother Mark and I) goal in life was to be cool and nothing says cool like lounging on a car wearing a shirt from Wal-Mart before your "vacation" to the Huntsville Space and Rocket Center 45 minutes away from your house.  Just check out the awkward goodness in this photo:
The Mullet.  This was a compromise between my mother and I.  She wanted me to have Mary Lou Rhetton hair and I wanted long hair like my classmates.  The result?  Feather-backed mullet goodness.  That's not a perm!
Blue Mirrored Clip-On Shades.  I wore glasses, nice thick black with pink splatter glasses.  I loved them but I, again, wanted the cool shades of my peers.  Enter the oversized blue, mirrored clip on shades that would make any state trooper jealous.  I wanted the ones that flipped up, but they were too expensive.
The Dick Tracy Shirt. Again, in a vain attempt to look cool, hip and in the know, my brother and I desperately wanted a Dick Tracy shirt.  I'm pretty sure we had the Nintendo game too.  Confession: I've never seen Dick Tracy.  I just had the shirt.
The Yellow Socks. All the cool kids had colored socks!  I always wanted colored socks, but was only allowed white.  When we got the Dick Tracy shirt I knew it was my chance!
The Wrist Pouch. My brother was on the go, and by on the go, I mean playing with the tool bench behind us.  So what's a boy to do with no pockets in his red short shorts?  Easily wear the 50 cents papaw gave you on your wrist."
(submitted by Kelly)

And this is bubbly.
(submitted by Kim)

"This is my family in the 90's. We lived in Alaska at the time, so I guess my
parents thought our relatives would like to see us as Eskimos."
(submitted by Ashley)


A little something in here for everyone.
(submitted by Colin)