christmas
"This is a family pic from when were kids. We were the cool family on the block."
(submitted by Brandon)
"This was taken back in 1971 when I was about 18 months old. My grandmother had one of our cousins dress up as Santa to surprise me and my aunt (who is holding me). I'm not sure what happened to Santa on the way over…..looks like he was run over by one of his reindeer. I think this is where I got my early love of all things scary :)"
(submitted by Heather)
They're not so sure about being sure of anything.
(submitted by Andre)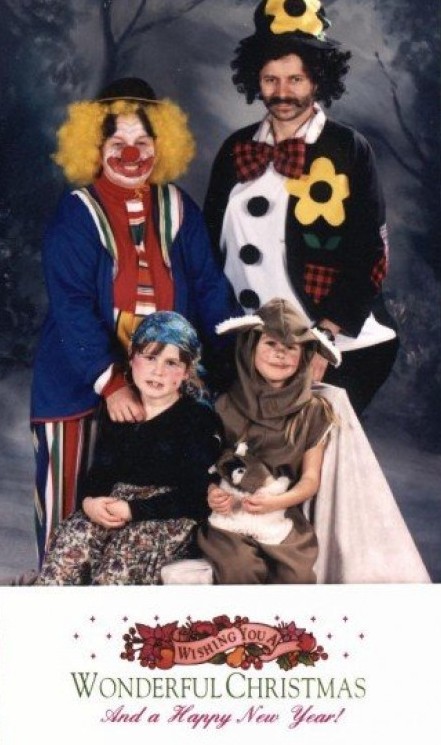 You can never start the celebration too early.
(submitted by Samantha)
You don't have to do everything together.
(submitted by Susan)
The most awkward time of the year is coming.
(submitted by Brandon)
"This 1984 picture was the result of a Christmas I really wanted to make memorable ! Just two days before Christmas, I set out to make clothes to fit the scene so that the four of us could pose in a family Christmas picture. Since my little girl, Christina, was in her terrible twos rarely setting still for pictures at all, and our six year old son Justin, wasn't quite as easily persuaded to pose for pictures as he use to be, I just had to take action to preserve our happy faces sharing the moment at Christmastime. This was the first and the last time I could capture a silly, but warm and tender setting with all four of us posing in a holiday picture. Today, this is "our" all time favorite family Christmas picture… and boy would I love to re-create this now that our children have grown!"
(submitted by Dianne)
This family is considering adopting a few more laps.
(submitted by John)