Grandparents

So close.
(submitted by Cindy)

"This is a photo of my great-grandma and all of her great-grand children. Sears must have been having a special or something because I (front row, pink dress) remember waiting in line for a very long time before it came for our turn to have our picture taken. This explains all the children's bored/upset faces. It was miserable at the time, but now it's a funny and iconic family photo. Also, a really great example of why everyone should go digital and check the results before they print them."
(submitted by Bettina)

"This is a photo of my great grandmother Hannah after landing in Hawaii. I found it yesterday while going through a box of my grandmother's stuff. Apparently she wasn't "ready" when that photo was taken and didn't like it. She did, however, like the gentleman in the photo with her."
(submitted by Amy)

Happy Grandparents Day to the best awkward grandparents in the world!
Love,
Mike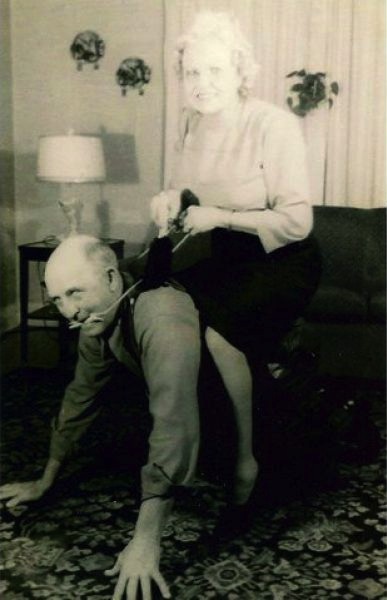 It's always the quiet ones.
(submitted by Joe)

"My grandma wasn't too happy when my dad and my step-mom got divorced. She decided the best way to handle it was to cut her out, literally. I am the one to the right feeling a little left out."
(submitted by Amber)

She always looked forward to spending time with Grandma.
(submitted by Amber)

He was supportive of her lifestyle.
(submitted by JimBob)

"This was my Christening, June 1971. I'm the baby obviously, my Godmother is holding me, my parents are next to her. Their hideous outfits aren't the "awkward" part of this photo. In the background, my grandmother is pulling my sister's hair while my brother is recovering from a smack! All of this right on the front steps of a church."
(submitted by Debbie)

She's in good hands.
(submitted by Euless)