Grandparents

your caption here
(submitted by Daleene)

Who said there were no toys at Grandma & Grandpa's house?
(submitted by Brittany)

Getting x-rayed is fun for the whole family.
(submitted by Nikki)

Let's just say he was feeling a lot of pressure.
(submitted by Lisa)

Grandma had very strong wrists.
(submitted by Dustin)

So close.
(submitted by Cindy)

"This is a photo of my great-grandma and all of her great-grand children. Sears must have been having a special or something because I (front row, pink dress) remember waiting in line for a very long time before it came for our turn to have our picture taken. This explains all the children's bored/upset faces. It was miserable at the time, but now it's a funny and iconic family photo. Also, a really great example of why everyone should go digital and check the results before they print them."
(submitted by Bettina)

"This is a photo of my great grandmother Hannah after landing in Hawaii. I found it yesterday while going through a box of my grandmother's stuff. Apparently she wasn't "ready" when that photo was taken and didn't like it. She did, however, like the gentleman in the photo with her."
(submitted by Amy)

Happy Grandparents Day to the best awkward grandparents in the world!
Love,
Mike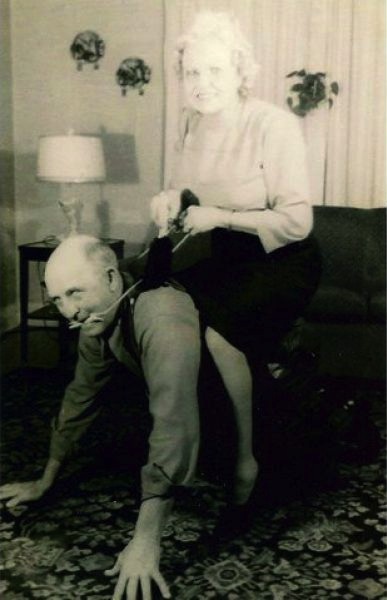 It's always the quiet ones.
(submitted by Joe)