Family Portrait
The eye roll heard around the world.
(submitted by Erin)
"Taken at a family reunion in northern Illinois in 2002. My siblings and I are showing off a talent that runs in our father's side of the family."
(submitted by Andrew)
You don't have to be in the middle to feel like the middle child.
(submitted by Maggie)
"My brothers hated having their picture taken, so I'm guessing that's what's up with them. As for the rest of us, I don't know what the problem is."
(submitted by Jodi)
"This was during our annual family photo shoot…except that isn't my father. It's the photographer."
(submitted by Christina)
"This was our family reunion and pay attention to the only one not wearing a family reunion shirt–  Tell your BOOBS to quit staring at me?

(submitted by Ginger)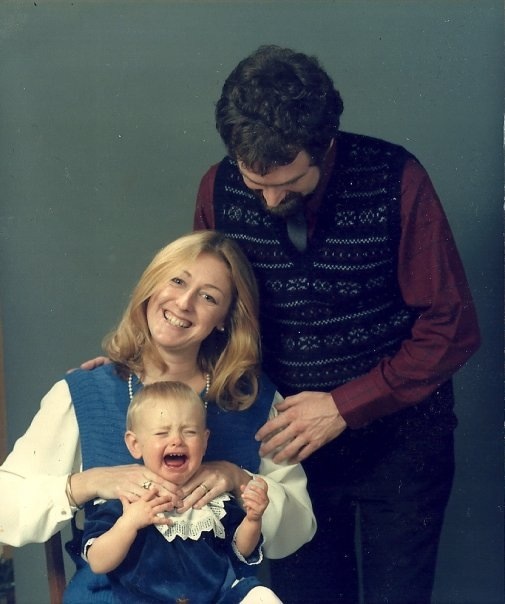 They were only there for support.
(submitted by Mike)
"We were standing waiting for the pictures to be taking – all of us doing whatever. My husband was taking the pictures and he was testing the shot.  Just really funny.  Could not have posed this one if we tried."
(submitted by Christine)
"We went for a portrait session and didn't want to take the same old boring family photo.  So dad came up with having our daughter do a handstand.  It wasn't until we got the picture back that we realized it looked like…well, let's just say her brother's head placement was unfortunate."
(submitted by Paula)
"We took this picture in PA right before Halloween. No retouching, but we believe the camera may have been on panoramic mode."
(submitted by Carmen)