That's one way to avoid a photo.
(submitted by Anna in Canada)
Get ready, Nana.
(via reddit)
"This is from 1988 I believe, I would have been 5.  While other little girls were dressing up as princesses, witches, or something cute, my mother decided to dress me as Santa Claus!  Because what 5 year old little girl wouldn't want to be Santa for Halloween?  My sister was a duck, my mother convinced her she was dressed as Howard the Duck (I was so jealous!). Another one of my sisters is a dog, and my oldest sister was a fashionable 80's fashionista (lucky!). That's my mom in the picture, proudly showing off her misfit kids!"
(submitted by Jamie)
"This was for a school contest my sister was competing in. The prompt was "what if…" and she thought it would be fun to reverse the role of dog and master. I remember needing to pee so badly in that kennel."
(submitted by Caroline)
"My wife wasn't too excited about our wedding gifts…"
(via The Meta Picture)
"My dad was a history enthusiast. My mom a nurse. On a dark and stormy night they joined together and this is what happened."
(submitted by Caroline)
His ghosted image refused to be upstaged.
(submitted by Mike)
Prepare to be smiled to death.
(via Sarah)
They just slipped into something more comfortable.
(via reddit)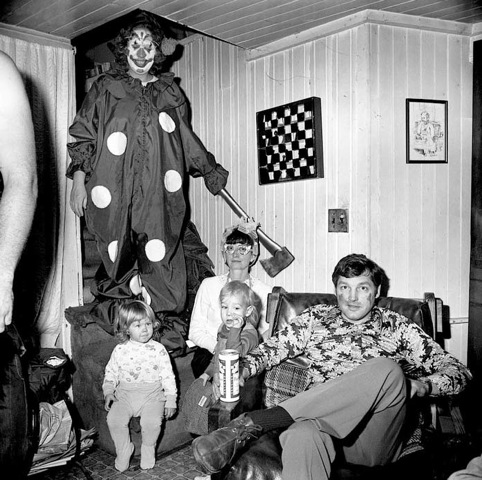 It was worth it for the extra rent.
(via reddit)