matchy-matchy
"Going through old pictures tonight and found this blast from the past…..the "Von Lightsey" family portrait!!!! Oh my!! My aunt (who helped run the Grapevine Opry at the time) had her costume designer make these matching outfits for our family to wear to the shows…..well, Mom wanted her to know how grateful we were so she took us Olan Mills for family portraits!! At one of the opry shows, we were all sitting on the front row…and a performer asked if we were a bowling team?!?! Good times! My dad is a great sport! I think Brent and Susan do look adorable with their orange hair and cute grins! I was getting braces put on the next day, so I was not wanting to show my teeth! (goofy nerd, I know!). Glad Mom had us do this picture…it's created plenty of laughs through the years! Even at my mom's funeral four and a half years ago…we had this picture as a part of her slideshow. The church was packed, and when this picture came up on the screen, there was a huge rumble of laughter through the tears! Precious memories, for sure!!!"
(submitted by Sherrie)
"Me with my two brothers in 1968. We just moved to Switzerland  where my father got a good job with a much better salary than before. So we were showing off a new bicycle, a new scooter, new clothes, and my mother's impeccable sense of fashion."
(submitted by Gautier in France)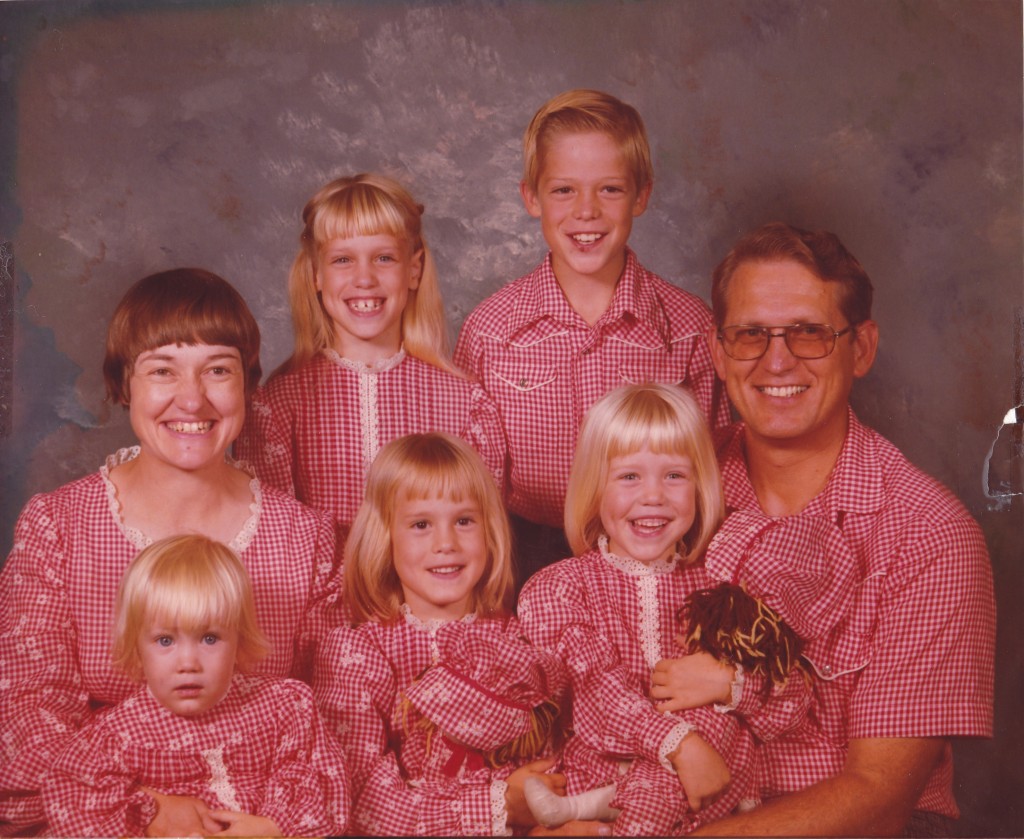 Even the dolls felt it was overkill.
(submitted by Riann)
"My "Far-Out" mama apparently thought all of us wearing tie-dye and making our hair as feathered as possible would make the perfect family photo. Please keep in mind this was taken in 1992, when neither tie-dye nor blue eyeliner were in fashion… Thanks Mom!"
(submitted by Hilary)
Every boy dreams of one day becoming a man and making the transition to sky blue.
(submitted by Kevin)
"My mom sewed clothes for the family as I was growing up. Since our family sang together in churches in Indiana and Michigan in the 70's, she had the grand idea of making red polyester suits with a hint of orange Polka dots (along with the awesomely huge bow ties). Gotta love ya, Mom! And BTW, I'm the little boy next to dad. Today, my family of 7 children all play in our own family music group, but without the polyester."
(submitted by John)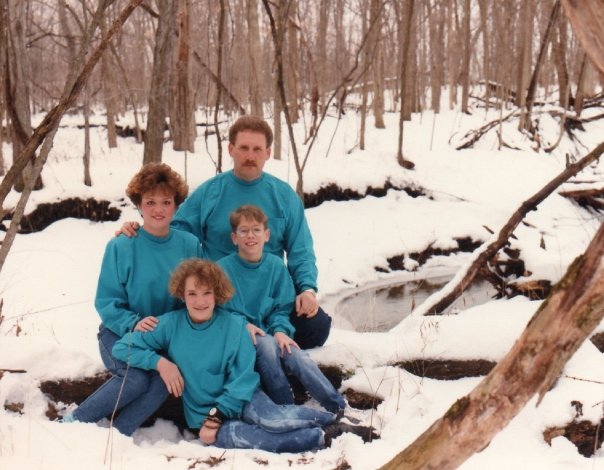 "It was the 80s. My dad thought it was a good idea to take a picture in the woods with snow. The look on his face doesn't validate the brilliance of the idea. Mom chose the color of our shirts. Apparently she expected more of a tropical setting."
(submitted by Tommy)
This family preferred to play a game called "There's Waldo."
(submitted by Jamie)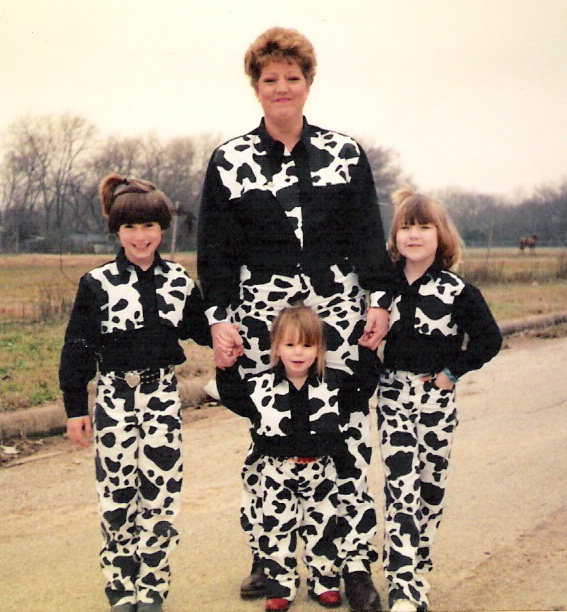 Mom thought leopard print would be too tacky.
(submitted by Natalie)
"This is my mother's side of the family (I am looking fly on the extreme far left). I believe the occasion was my step-grandfather's 75th birthday, and, as you can see, the instructions were to wear white and khaki for this very special photo. I would especially like to point out the varying interpretations of "khaki"."
(submitted by Liana)