Birthdays
"This is a photo of my friend Samantha. it's her fifth birthday and her first bday in america. At the time, her mom couldn't read English very well, so she got a "Happy Anniversary" banner."
(submitted by Michael)

"This is a picture of me blowing out candles at my birthday. At the time I loved that clown and he came to a few of my birthday parties, but now I look back at the pictures and they just look…horrifying. I'm really surprised I'm not afraid of clowns after seeing this picture."
(submitted by Brandi)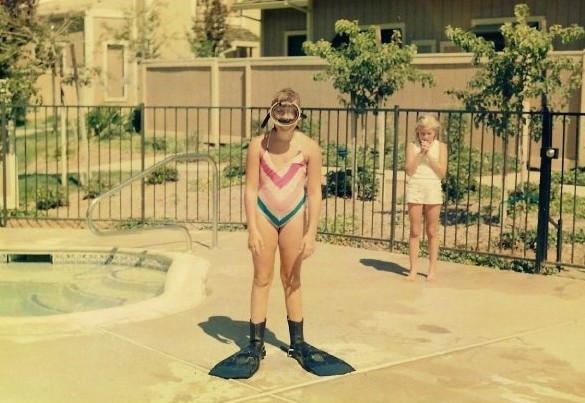 "This was my birthday present– fins and a mask.  I'm not sure what is the most awkward part of this photo…my sister lurking in the background, my unenthusiastic stance, or the arrows on my suit."
(submitted by Andrea)

"That's me sandwiched between my fraternal twin aunts on their 16th birthday. Aside from the random Ketchup bottle, I particularly enjoy the ashtray and paddle in the forefront. I suspect my sour expression has something to do with the latter. I don't know why my aunts look so pissed, after all; they got matching feather boas and 7-UP bottles."
(submitted by Abril)
If he couldn't blow out the candles, his father was always there to back him up.
(submitted by Christina)
"This is my 8th birthday. My mom's gift was to dress up as Cinderella, and dress up my uncles as…. I have no idea!"
(submitted by Sofs)
"Notice my dad in the background laughing hysterically at my poor brother."
(submitted by Ann Marie)
You can also choose to have your cake and not eat it too.
(submitted by Lana)
Who wants the first slice of chicken?
(submitted by David)
"This is my sister blowing out candles in a graveyard and I am standing beside her."
(submitted by Brooke)