Kids
Finders keepers.
(submitted by Lynn)
"My boyfriend Alec at his finest."
(submitted by Silvia)
"That's me and my cousin Alex at the age of about 8 years old at the Marquette Ore Mine. This photo was taken on one of our many summer visits to my grandmother's home in Michigan.  Poor Grandma was running out of fun activities for us to do during these long summer visits."
(submitted by Megan)
"It seemed like a good idea at the time: the Easter Bunny emerging from the gardening shed to surprise the children and join the egg hunt. My then 4-year old daughter didn't think so. And when the shed door crashed open and the Bunny stumbled out and staggered about because he couldn't see out of the costume, can you blame her?"
(submitted by Bruce)
What goes up must stay up.
(submitted by Angie & retouched by Katie McCranie)
"Photo taken in St James' park, London.  That's me placing a peanut on my sister's head to attract a squirrel whilst mum is completely oblivious."
(submitted by Grace in the UK)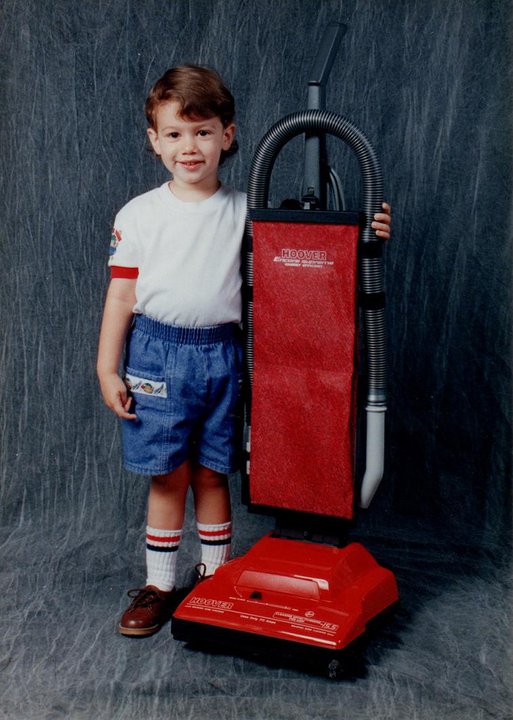 "As a child, my boyfriend loved appliances and in his eyes, all other appliances paled in comparison to the vacuum cleaner. When he was around five, his mom took him to a photography studio to get his portrait taken. He asked the photographers if they had any vacuums he could take a picture with. They found one in a broom closet and brought it out for him… the rest is history."
(submitted by Joanna)
"This is a school photo of my brother Jeff in the 2nd Grade.  Need I say more?"
(submitted by Jennifer)