Uncles, Aunts, & Cousins

He was looking for a little more pizzaz.
(submitted by Brian)

If you're guarding a pot of gold, you better shine.
(submitted by Danielle)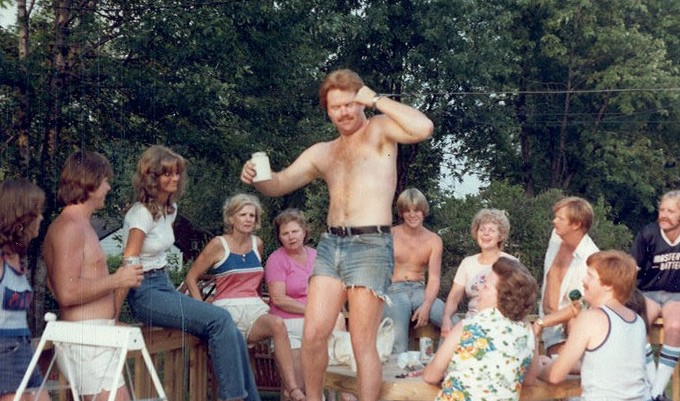 "This is a family picture my aunt found. The ginger with the jorts flexing is my dad. The hot chick who looks like she's from Charlie's Angels is my mom. The rest of my family looks confused/disgusted. I share his enthusiasm for jorts."
(submitted by Ashley)

"This is the picture that Aunt Mar sent out in her Christmas cards to everyone with the words, 'after 30 min of fishing…' written on the back."
(submitted by Amanda)

"This is a shot of my husband and I leaving our wedding reception and heading to Mexico for our honeymoon. My very inebriated Uncle Dale walked up as we were leaving, tapped on my new husband's window, and yelled out 'If y'all go to Taco Bell, bring me back a taco!' Unfortunately, we missed out on getting a shot of him dancing to Michael Jackson's "Thriller" in the courtyard by himself…"
(submitted by Jamie)


Aunt Barbara doesn't do hemlines.
(submitted by Bethany)

We're all a little bit bundt cake.
(submitted by Shane)

"Christmas Card from a great uncle. He captures squirrels and loves Walker Texas Ranger."
(submitted by Katie)

You actually will shoot your eye out, kid.
(submitted by Molly)

"My Brother-in-Law, Norbert (second mullet from right), is a semi-professional bowler and used to bowl in many different state/national leagues and tournaments. This photo was taken at the big Las Vegas National Bowling Stadium Championship Tournament back in 1985. This was the man and this was his team and they didn't mess around."
(submitted by Annie)