Uncles, Aunts, & Cousins

We're all a little bit bundt cake.
(submitted by Shane)

"Christmas Card from a great uncle. He captures squirrels and loves Walker Texas Ranger."
(submitted by Katie)

You actually will shoot your eye out, kid.
(submitted by Molly)

"My Brother-in-Law, Norbert (second mullet from right), is a semi-professional bowler and used to bowl in many different state/national leagues and tournaments. This photo was taken at the big Las Vegas National Bowling Stadium Championship Tournament back in 1985. This was the man and this was his team and they didn't mess around."
(submitted by Annie)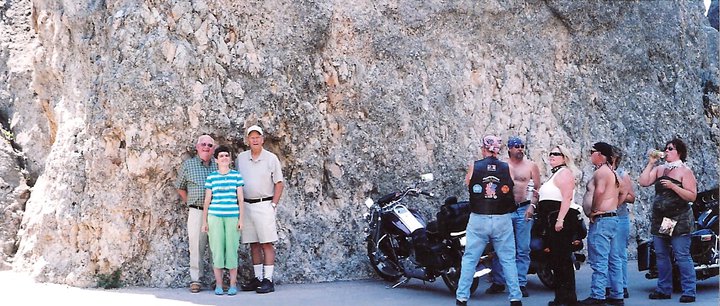 This scenic stop was a thrill for these three seniors, but not as much as kicking over a few Harleys.
(submitted by Amy)

"This is me and my cousins at Christmas 1999; I am the one in the middle sporting the glasses, cool choker necklace, and lovely khaki ensemble. My Grandpa made all of these boxes by hand for us for Christmas. Some of us were happier about them than others."
(submitted by Mallory)


It takes a real man to chop down a tree and look fabulous doing it.
(submitted by Jake)
Thanks to Facebook I now receive messages from a great aunt I haven't seen in 35 years. She an old southern gal that can't seem to find the cap lock key 🙂
IM SURE ALL WILL BE GLAD TO ADD YOU. THEY ARE ALL ON MY PAGE. JIMMY HARTWELL AND HIS WIFE BETSY IS ON HERE. THEIR KIDS DOUGLAS AND SHANE. BOBBY IS IN NURSING HOME IN ELBERTON, BUT HIS SON BILL HARTWELL IS ON HERE. AND DOYLES GRAND KIDS. BILLY HARTWELL HIS SON AND WIFE IS ON HERE.IT'S SO GREAT WE ALL CAN TALK TO ONE ANOTHER. I HAVE MY DAUGHTER BETH IS ON HERE AND ANN'S DAUGHTER CARLA IS ON HERE. SOME OF GARTHEL GRAND KIDS IS ON HERE. TOMMY ANDERSON DAUGHTER IS ON HERE WEYMANS ANDERSON THERE KIDS ARE ALSO ON HERE, SO WE HAVE GOOD MANY EVERYONE CAN GET TO KNOW THERE KIN PEOPLE.
(submitted by Cheryl)

Another exclusive from the new Awkward Family Photos book…

You can only eat so much dip.
(submitted by Habiba)