Uncles, Aunts, & Cousins
We're all a little bit bundt cake.
(submitted by Shane)
"Christmas Card from a great uncle. He captures squirrels and loves Walker Texas Ranger."
(submitted by Katie)
You actually will shoot your eye out, kid.
(submitted by Molly)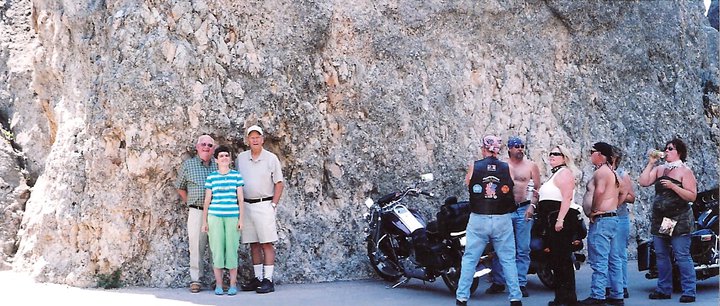 This scenic stop was a thrill for these three seniors, but not as much as kicking over a few Harleys.
(submitted by Amy)
"This is me and my cousins at Christmas 1999; I am the one in the middle sporting the glasses, cool choker necklace, and lovely khaki ensemble. My Grandpa made all of these boxes by hand for us for Christmas. Some of us were happier about them than others."
(submitted by Mallory)

It takes a real man to chop down a tree and look fabulous doing it.
(submitted by Jake)
Another exclusive from the new Awkward Family Photos book…
You can only eat so much dip.
(submitted by Habiba)
This is just what people had to do before the discovery of the "headpile."
(submitted by Garland)
"This is my Great-Aunt, who went to my cousin's wedding in that pastel track suit with the purse around her neck. This picture was taken right after she was told she could take home the champagne glasses. She fit as many as she could in her hands, but made sure she had room for the leftover champagne."
(submitted by Jen)