"The cake for a 60-year-old's birthday party."
(via source)
"A sweet father-daughter moment with my son's axe in the background. No blood was splattered following this photo, but we did miss our cue to get our son into therapy."
(submitted by Ellie)
Sometimes a coincidence can lead to something great. Back in 2012, a week before Christian Carollo was set to visit the Oregon Coast, he stumbled on a box of his...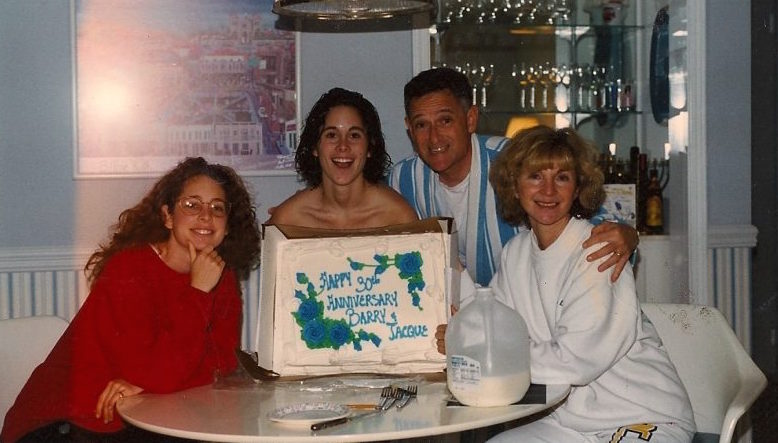 "This is a photo of me and my family over ten years ago. We were celebrating my parents' 30th wedding anniversary and even though I was fresh out of the shower and wrapped in a towel, they wanted a picture. Nothing says 'Congratulations, Mom & Dad' quite like appearing naked behind their anniversary cake."
(submitted by Stephanie)
"My sister has a death grip on my other sister (in the wedding dress), and I appear to be holding a hot dog."
(via source)
"My nephew is waiting downstairs to scare me."
(via source)
We all remember our first real relationship. At the time it seems like it's going to last forever. So we can forgive Harrison Bach and Jacqueline Martin, both 22, for having trouble letting go. After dating for three years they broke things off, but didn't let the relationship fade away without a little memorial. Both of them were home from new hears when Harrison texted Jacqueline with an idea: breakup photos.
Jacqueline went along with it, and the result is…well, what you'd expect from two people who just decided they weren't right for each other. The discomfort is palpable:
Something tells me the breakup wasn't exactly mutual:
Don't worry, they didn't spend money on the photoshoot, a friend did it.
(via source)
"My pops getting dragged back into his wedding, 1976."
(via source)