This, of course, was during the comb famine of 1983.
(submitted by Osian in the UK)
"On our last day of vacation we visited Jones Beach on Long Island… a beach that we visited many times as children. We happen to have two awesome pictures from our youth at that beach and this was the first time in at least 5 years that all 4 of us were there together again! So…there was no question it was time to recreate those classics!"
(via Pinned By Dani)
Some of the children were more serious than others.
(submitted by Mike)
"My five year old daughter had been trying to catch a fish for about 30 minutes with left over breakfast pancakes. Time after time she would throw her line out and then…. much to her surprise she caught herself! :)"
(submitted by Marsha)
"The shopping trip from hell. My 2 yr old throwing a fit over m&ms at Target. "
(submitted by Rachael)
"This is my lovely family and myself. My sister was holding me and trying to wiggle out her tooth with her lips."
(submitted by Tara)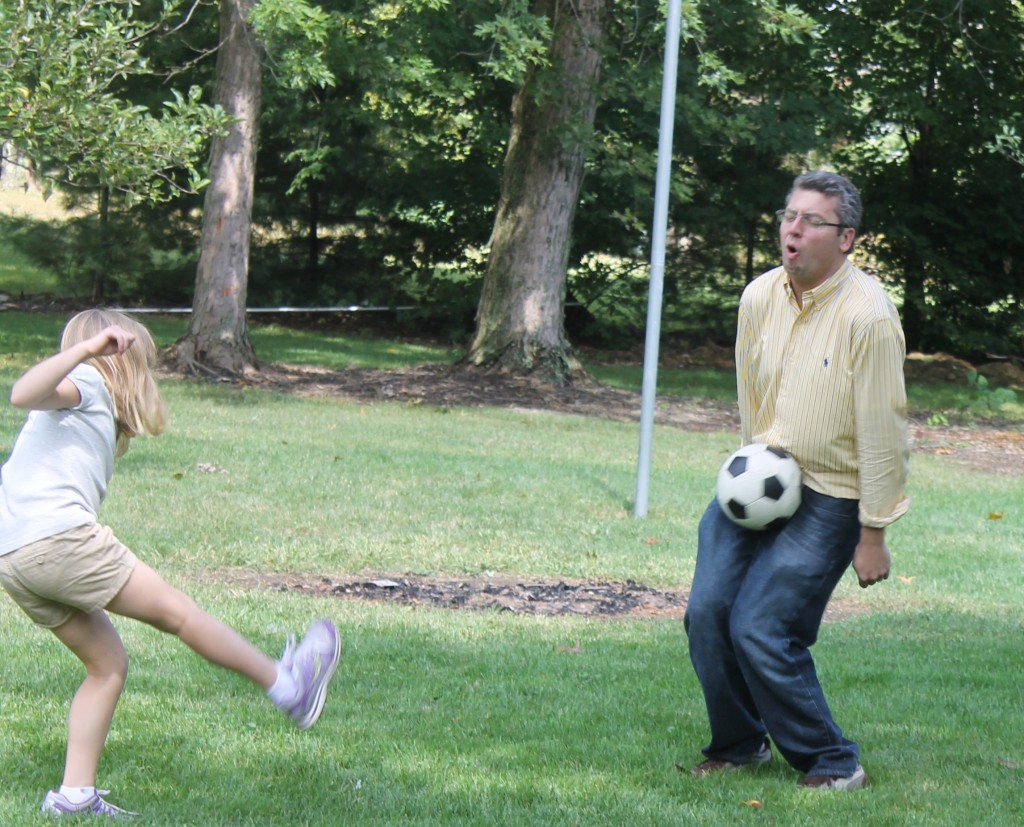 "At a family birthday party, I thought I would do the fatherly thing and play a little soccer with my daughter.  As I approached her to try to steal the ball, she sent a rocket in my direction. I was okay after writhing on the ground for a few minutes.  We switched to football for the rest of the afternoon."
(submitted by Dan)
"This is my pre-school picture.  I had a fit and would not get my picture taken unless I could put my belt on my head.  So my mom did what she had to do."
(submitted by Mike)
No babies were hurt in the making of this photo. Here is Dad's story:
"We had just finished up a family reunion in California and decided to do some family pictures on the final day. Before this photo was taken, we had just spent time getting about 18 people (many of whom were kids) to pose for a large family picture. Those with young 'uns can attest that sitting still and smiling for the camera are like torture to a 4 year old, so by the time we had finished with the large family we had used up all of my 4 year old's good graces and he was in a sour mood.
So we attempt to take pictures of just our family and things are going south quickly. Both kids are crying and we are pulling our hair out trying to get one good picture because we're a happy family dangit and we're all in coordinating colors that have been meticulously chosen and fretted over. Someone had the idea to do a "candid" photo of us swinging our kids to hopefully raise our kids' spirit and relieve some of our stress by flinging our kids around.
First couple of shots go fine. As we wind up for the final one I notice something out of the corner of my eye. E (the baby) is at a weird angle and my wife is yelling "GAAAAAAAAAAAAH!" instead of the usual "Wheeeeeee!" So I know something's about to go down.
I watch my son gracefully do a full backwards layout and land flat on his back in the sand. He's stunned for a moment, cries for a minute, but after about 2 minutes of sniffling he's back to his regular self, smiling and laughing."
(submitted by Liz Hansen Photography)
The family visiting their photo at the AFP Exhibition in Santa Monica, CA.