What better way to celebrate a 50th wedding anniversary than by preserving their love forever in cardboard?
(submitted by Megan)
This family was one encyclopedia from getting it right.
(submitted by Sam)
"Hi Everyone,
Well after cruising along for 428 miles, I arrived at the KOA campground in Bismark. It was fairly empty when I first pulled in around 5:00 but by the time I came back from my Dairy Queen run, most of the drive through spots are full. Most of the tent spots are still empty.
There were two notable things today. Normally when going to the lake I can leave the milage display on the screen and see that I cruise along at 65 MPH with a normal weekend load of clothes and food and get around 24 MPG. Today towing the trailer and attempting to keep up with the 75MPH speed limit (which everyone seems to be ignoring) the jeep only gets about 11 MPG. So I made a few extra gas stops and noted how long it was between stops. There is a lot of open country out here in North Dakota. I sure hope when I turn south to go to the bike race that I find enought gas stations. I note that I will be taking mostly 2 lane roads so I will only be going around 55 MPH, so the milage should be better. It is the long distances between "towns" that worries me. I saw the sign for gasolene on an exit and took the exit. It was 5 miles to the town, and the station was shut. (its Sunday!). Fortunately a friendly person walking down the road gave me directions to get gas without going right back to I-94. However when I started back out from the gas station, my GPS started telling me to drive 133 miles south on the two lane road to continue my journey. I ignored that advice and asked for more directions from a local and only had to go on a couple roads that the GPS apparently did not know about to get back to I-94. Maybe I should have downloaded new maps to the GPS before I left the house. It is only 6 weeks old, so I figured it had to be fairly up to date.
The other thing that really struck me is how big motorhomes and trailers have become since I last camped on a trip in the 70's. I would say that at least 1/2 half of the "campers" here are with giant motor homes towing jeeps or trucks or they are fifth wheel trailers. The folks next to me have a fifth wheel toy hauler with their Harley's in the back and the "living quarters" in the front. Like I mentioned, no real tent campers here.
Tomorrow's only planned activity is the river boat ride on the Missouri river and maybe visiting a few of the historical sites in Bismark and Mandan. I also want to find the city park since someone wrote about in on the web and said it is the best campground in the area. It supposedly is on the river so maybe when I find the boat ride I can find the park.
Thats the news for now. No campground pictures since it would look like last week's pictures. There is a quick snapshot of the car and trailer as I finished loading up this AM."
(submitted by Lisa)
This family takes us back to a time when road trips were even more uncomfortable.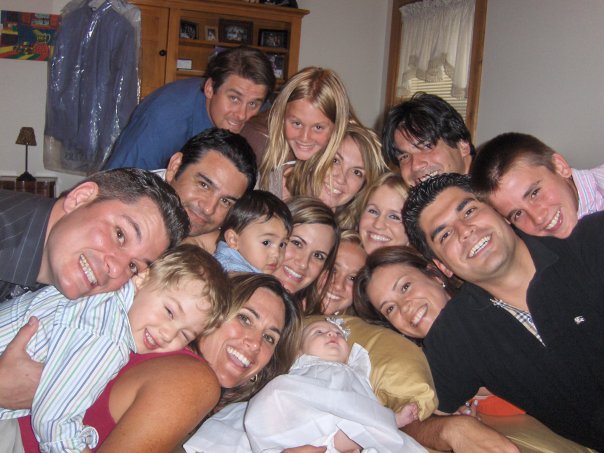 This baby experiences its first invasion of private space.
(submitted by Peter)
This is what happens when you're only able to grow three sunflowers.
(submitted by Kelly)
The whole family gathered around the man who started it all.
(submitted by JB)
"The twins started their state playoffs on Monday at 6:00 p.m. They won. Played again on Tuesday at 6:00 p.m. They won. Played again on Wednesday at 6:00 p.m. They won. Played again on Thursday at 6:00 p.m. They lost. Played again on Thursday at 8:00 p.m. They won by one run. They will play again on Friday at 6:00 p.m. They will play Richards which is the team that beat them 25-3. The team that beats will win first place and the other team will win second. Never dreamed they would do so well. I have not gone to the games because of the heat and I get too nervous. I keep Brad. Tomorrow night Brad is going and I am also going. I will take along three nerve pills. Hope I make it. The only casualty has been Alice, who plays first base, and was hit in the mouth trying to make a catch. Just a little blood and swelling. She was worried about her permanent teeth getting knocked loose. She is fine."
(submitted by Anonymous)
Why shout it from the rooftops when you can shout it in their face?
(submitted by Sierra)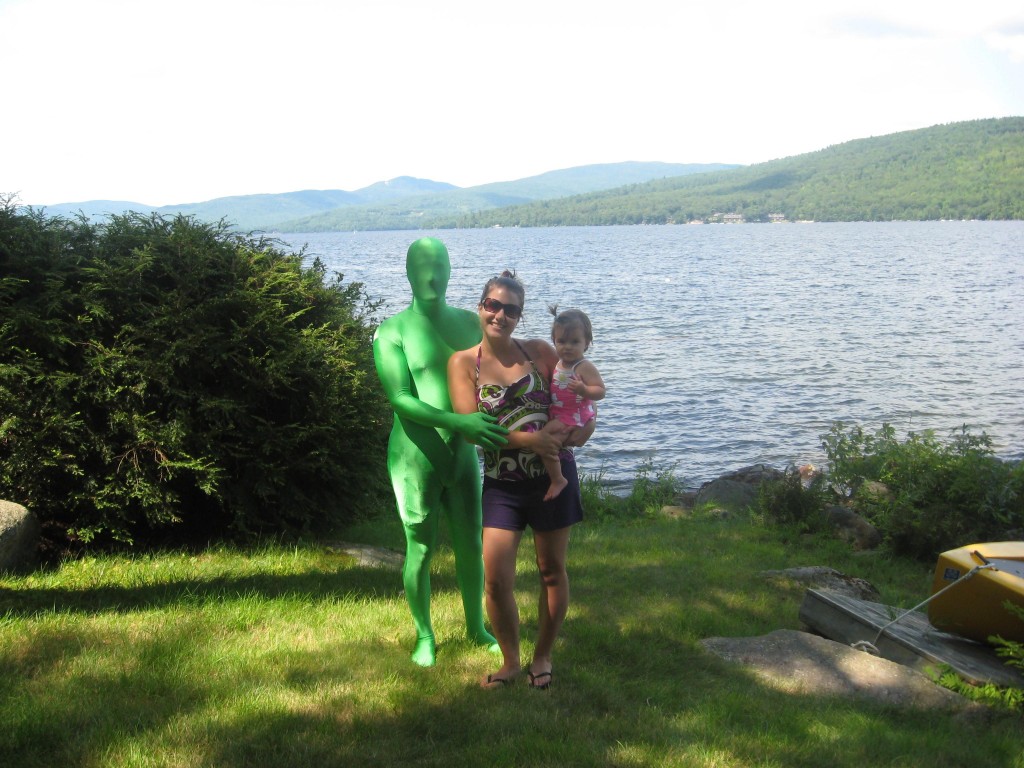 While this dad was trying to teach his daughter a valuable lesson, this actually does nothing for the environment.
(submitted by Weez)